Sponsored Link
スポンサーサイト
Japan 'Fortune Bags' Draw New Year's Shoppers
"New Year's Day is the most revered holiday in Japan. Celebrated in a four-day period, most Japanese spend it with family, quietly visiting shrines and feasting on traditional New Year's dishes."
But the scene outside the popular Laforet mall in Tokyo's Harajuku district looked more like a concert today. Lines of shoppers spilled out into the streets as security guards watched closely.
Laforet employees wore colorful Jinbeis (a Japanese traditional short jacket) with megaphones in hand, while the sound of traditional taiko drums echoed through the hip shopping district.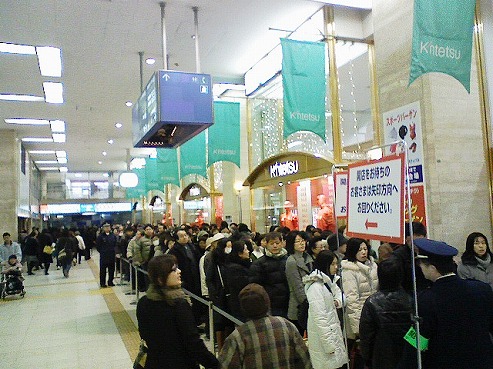 (New Year's Shoppers' Matrix for 'Fortune Bags')
Once the clock hit 9 a.m., retailers opened their doors to screaming shoppers who frantically rushed to their favorite stores, to try their hand at New Year's luck. "I've been coming to Laforet to buy fukubukuro for five years now," Chino Murakami, 33, said. "The event only comes around once a year. Shopping sales on the first day of New Year is fun."
The New Year's Day excitement in Japan, reminiscent of Black Friday in the United States, includes an increasingly popular tradition: shopping for fukubukuros, or "fortune bags."

(First Sale Ads for the New Year)
The surprise bags, sold only the first few days of the year, are sealed, so shoppers can't see what's inside. Clothing stores typically sell them for roughly $60 to $120, although retailers claim the value of goods inside can be two to three times the price of the bag.
"It's like a lottery ticket," Sophia University marketing professor Cheron Emmanuel said. "You don't know if you will get a huge surprise in terms of getting much more than what you have paid for."
By TS on Jan 5, 2012
スポンサーサイト
tag : Cool_Japan