Sponsored Link
スポンサーサイト
Cool Japan / Joya-no-Kane (除夜の鐘)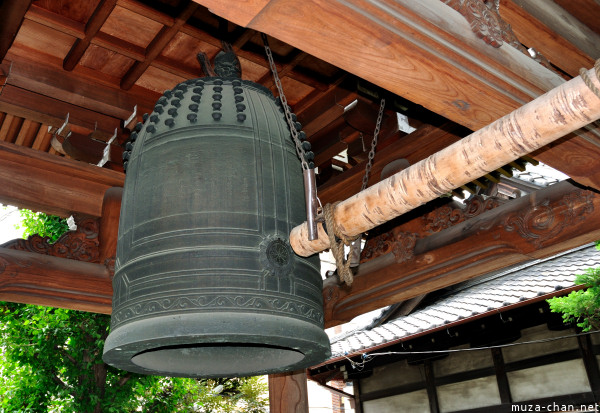 (Bell used for "Joya-no-Kane")
Joya-no-Kane, or midnight tooling of the temple bells. At the stroke of midnight on New year's Eve, the entire nation listens to the tolling of the Tsuri-Gane, the great bells or gongs at Japan's Buddhist temples.
京都 知恩院のバックドロップ除夜の鐘

Buddhist temples ring their bells 108 times at midnight. This tradition is called joya no kane (除夜の鐘) which means "bell rings on new year eve's night." The rings represent 108 elements of bonō (煩悩), defilements, or Kilesa in Sanskrit, which is said people have in their mind. The bells are rung to repent 108 of the bonno.
今日の薬師寺:除夜の鐘Ⅲ 2011/01/01
While it is bell-shaped, the Tsuri-gane is struck on the outside by a large wooden hammer suspended by ropes, so it may be thought of as a gong. At Chion-in Temple in Kyoto, many visitors are drawn every New Year's Eve to watch the tolling of one of the largest bells in the world. It weighs 74 tons. The Joya-no-Kane consists of 108 solemn tolls on the temple bells. According to Buddhism, man has 108 sins and that, by hearing the bells toll that number, he can be relieved of all of them.
By TS on Dec 31, 2011
スポンサーサイト
tag : Cool_Japan