Sponsored Link
スポンサーサイト
The story of forty-seven samurai (赤穂四十七士)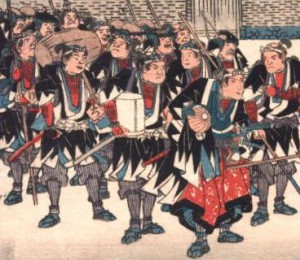 (The story of forty-seven samurai (赤穂四十七士) / Image)
Today is a memorial day regarding "The story of forty-seven samurai (赤穂四十七士)".
In 1701 (by the Western calendar), two daimyo, Asano Takumi-no-Kami Naganori, the young daimyo of the Akō Domain (a small fiefdom in western Honshū), and Lord Kamei of the Tsuwano Domain, were ordered to arrange a fitting reception for the envoys of the Emperor in Edo, during their sankin kōtai service to the Shogun.
実録赤穂事件 1/10
These daimyo names are not fictional, nor is there any question that something actually happened in Genroku 15, on the 14th day of the 12th month (元禄15年12月14日, Tuesday, January 30, 1703). What is commonly called the Akō incident was an actual event.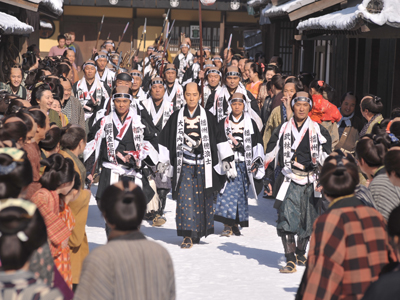 (One of the Film Scene regarding The story of forty-seven samurai (赤穂四十七士))
For many years, the version of events retold by A. B. Mitford in Tales of Old Japan (1871) was considered authoritative. The sequence of events and the characters in this narrative were presented to a wide popular readership in the West. Mitford invited his readers to construe his story of the Forty-seven Ronin as historically accurate; and while his version of the tale has long been considered a standard work, some of its precise details are now questioned. Nevertheless, even with plausible defects, Mitford's work remains a conventional starting point for further study.
By TS on Dec 14, 2011
スポンサーサイト
tag : Cool_Japan