Sponsored Link
スポンサーサイト
Fukushima-born storyteller sets up support network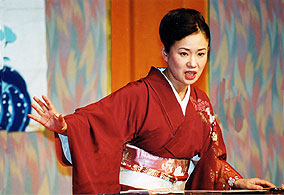 "Kodanshi" storyteller Kaori Kanda, who has kept alive tales of survival, has set up a group to support victims of the March 11 earthquake and the Fukushima No. 1 nuclear power plant accident.
Kodan (講談), is a style of traditional oral Japanese storytelling. The form evolved out of lectures on historical or literary topics given to high-ranking nobles of the Heian period, changing over the centuries to be adopted by the general samurai class and eventually by commoners, and eventually, by the end of the Edo period, declining in favor of new types of entertainment and storytelling such as naniwa-bushi. It was at this time that the term kōshaku was abandoned and kōdan adopted. Today, after a failed attempt to revive the art in 1974, there are four schools of kōdan and only a very few performers between them.
Kodan is usually performed sitting behind a desk or lectern, and using wooden clappers or a fan to mark the rhythm of the recitation. This derives from the origin of the art form in cultural, literary or historical lectures given in the Heian period courts.
By TS on Nov 3, 2011
スポンサーサイト
tag : Cool_Japan