Sponsored Link
スポンサーサイト
Sake brewers from Tohoku vow to rise again from the ashes
What did the principal tell you about bringing booze to school? In the case of sake from
Japan
's northern Tohoku region, however, there's room for leeway.
The sake, brought from 30 breweries in Aomori, Akita, Yamagata, Fukushima, Iwate and Miyagi prefectures -- which together make up the devastated Tohoku region -- drew crowds to 3331 Arts Chiyoda, a former elementary school in Tokyo's Akihabara area turned into art studios and design offices.
The July 3 Tohoku Sake Forum 2011, was no art event, however, but a series of reports from brewers -- many of them young -- about their businesses after the March 11 Great East
Japan
Earthquake. What followed was a direct appeal to Tokyo residents to help--by drinking up their brew right on the spot.
"I found out my old classmate from back home was going to be here, so I came," said Hidekazu Horikawa, a Tokyo resident who moved from Fukushima Prefecture 15 years ago. "I don't normally drink sake, but I'll do whatever it takes to help an old friend out."
His classmate, Daisuke Suzuki, stayed behind to run the family business, the Suzuki Shuzoten brewery in Futaba, Fukushima Prefecture. The 200-year-old brewery was damaged by the tsunami and sits close to the stricken nuclear reactors. Dressed in a traditional brewer's smock, Suzuki came to the event with a boxful of Iwaki Kotobuki -- the brewer's best sake -- to pour for visitors.
"After this there's no more, and we were lucky to get these bottles out before the wreckage," says Suzuki, whose family has been making sake so long he doesn't know which generation he is. "It's better that they're finished off here, among a large gathering, instead of being drunk by someone alone."
Suzuki intends to rebuild his brewery, although not where it has stood for the past two centuries. Other brewers also say they intend to carry on, yet the tsunami and the stigma of radiation aren't all they have to contend with. Young
Japan
ese have lost their taste for the domestic brew, preferring beer and wine instead, even as sake enjoys a boom overseas.
Even before the disaster, young brewers such as the ones represented at the event -- many in their 20s and 30s -- were working on ways to make their products more palatable to their peers. Some have tried to make their sake sweeter or more fruity in flavor. Fifth-generation brewer Takuya Fujimura at Kikuzakari Shuzo in Iwate Prefecture, however, has chosen a different tack. He brought bottles of his 7-year-old sake Taxi Driver, which features a picture of a young Robert De Niro on the label.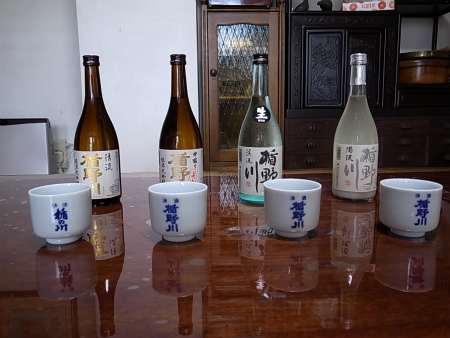 It's not exactly a traditional design, explains Fujimura, but it captures the impact of the sake, which is heavy on flavor while light on fragrance. Fujimura became a brewmaster nine years ago, leaving behind Tokyo and a career in videogame development.
"To be truthful I didn't have much interest in sake myself," says the 39-year-old, until he was called home. "Young people in Iwate don't really drink sake either. This label is one way to draw people who normally wouldn't be interested in sake. Still, you don't win repeat customers with just appearances, but with what's inside."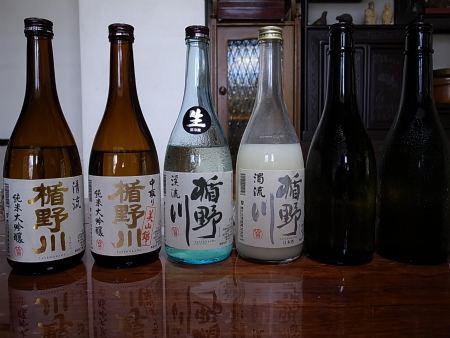 Although the earthquake brought down the roof of his warehouse, it's also brought Fujimura new business.
"I'm lucky that none of my vats were destroyed," says the brewer. "Iwate was one of the worst-hit places and other breweries were washed away. People there are still in no position to be spending money on alcohol. But because of all the attention, I've been able to sell to places outside the prefecture I wouldn't have before. It more than covers the local loss."
By TS on Jul 12, 2011
スポンサーサイト