Sponsored Link
スポンサーサイト
Quake victims receive messages of encouragement in Paris
PARIS--Words of encouragement to survivors of the March 11 disaster poured in at the
Japan
Expo, which attracted huge numbers of young French fans of
Japan
ese manga and anime.
At the event held in Paris from June 30 to July 3, a section was set up for visitors to leave messages for survivors of the Great East
Japan
Earthquake and tsunami.
Izis Gentils, a 17-year-old high school student planning to study in
Japan
, wrote that
Japan
ese have shown their courage and are sure to overcome the disaster.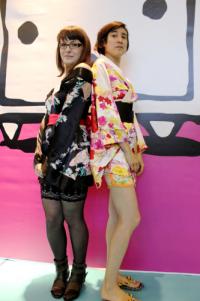 Cindi Boiron, 18, who studied
Japan
ese at high school for three years, said the power of
Japan
ese culture will not be shaken by the earthquake.
"The disaster reminded us that
Japan
ese are linked to the world," Tetsuya Watanabe, head of the
Cool
Japan
office at the Ministry of Economy, Trade and Industry, told a news conference. "We would like you to support
Japan
ese companies trying to get back on their feet."
The
Japan
Expo is one of the world's largest events of Japanese culture.
A section titled Village Japon featured kettles, sake and other specialties from the disaster-stricken prefectures of Iwate and Miyagi.
The section was set up by the government to regain trust in Japanese products and tourism, hurt by the accident at the Fukushima No. 1 nuclear power plant.
By TS on Jul 10, 2011
スポンサーサイト