Sponsored Link
スポンサーサイト
Already hurting, Tohoku's traditional crafts face uncertain future after March 11 disaster

(Wood handbags made by Satoshi Kumano using techniques typically used in Sendai 'tansu' chests of drawers)
For centuries, the Tohoku region has supported a wealth of artisans working with natural materials, but a recent dearth of young people willing to take up the traditions has threatened the crafts' survival.
The March 11 disaster may have been the final nail in the coffin.
However, the artisans are refusing to give up despite the damage and death from the Great East Japan
Earthquake
and tsunami, as well as declining sales amid radiation fears.

(Satoshi Kumano)
"I cannot remain discouraged," said woodworker Satoshi Kumano, 56, who has received many letters and e-mails of encouragement from fans of his products. "I want to pass my skills on to the next generation."
The March 11 earthquake shook Kumano's craft center in Sendai so violently that it dislodged the 800-kilogram saw used to trim lumber and scattered wood all over the workshop.
No one at the center was injured. But three members of a female employee's family were washed away in the tsunami; two remain missing.

(Works of Satoshi Kumano)
The staff needed several days to shift the saw back in place and clean the room. A big aftershock again made a shambles out of the craft center.
"We suffered so much damage in a tremor that lasted only a second. I felt empty inside," Kumano said.
His skills were originally used to make Sendai "tansu" chests of drawers in which samurai warriors placed their swords or clothing.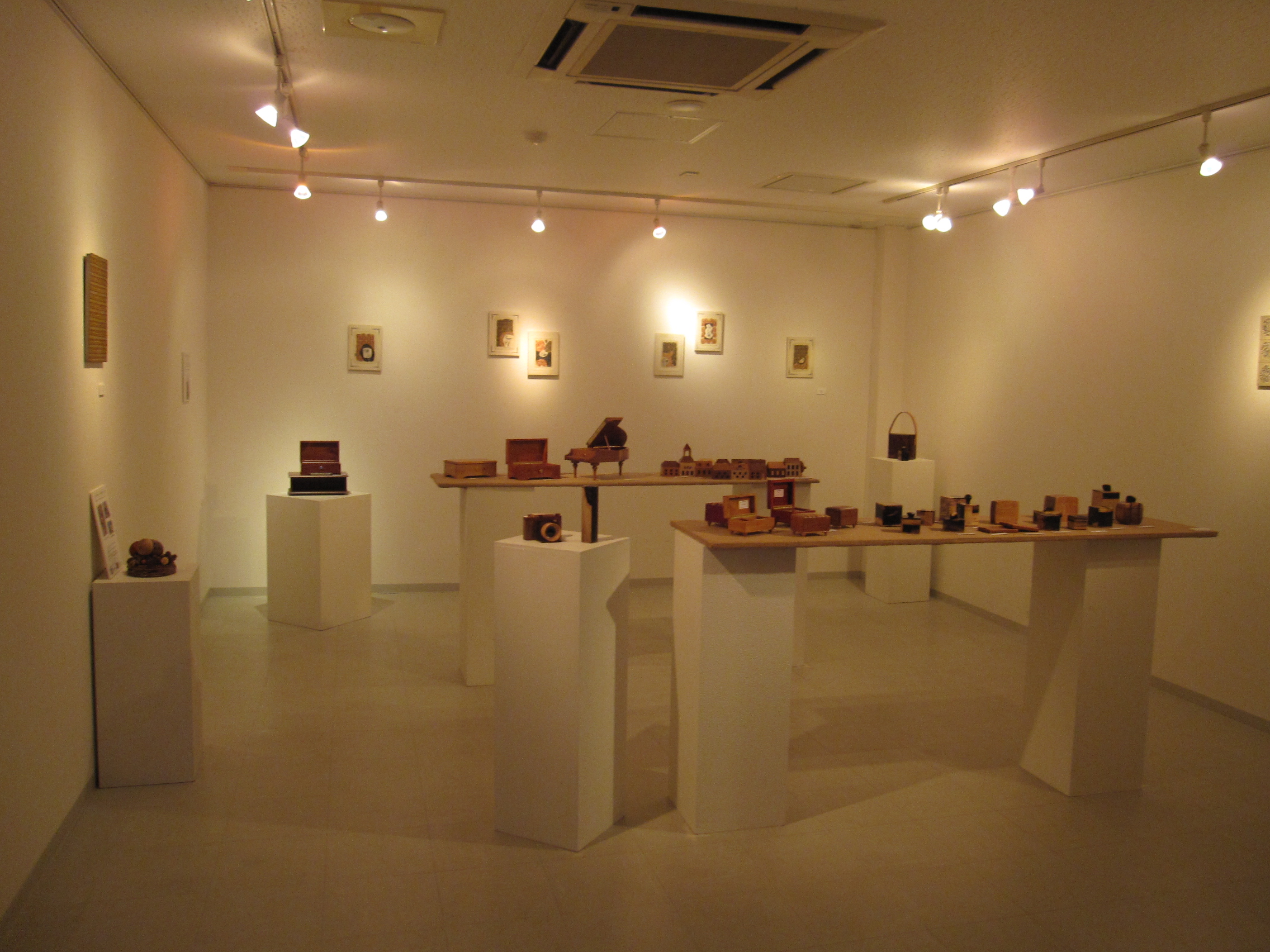 (The Exhibition regarding warmth of wood by Satoshi Kumano)
But using the same techniques, Kumano now creates handbags, music boxes and other items of wood. He is especially proud of his handbag designs, which fit comfortably in the hands. The clasps never come loose, no matter how long the bag is used, he said.
Kumano's craft center is still standing, but others were not as fortunate.
According to the Tohoku Bureau of Economy, Trade and Industry, about 10 centers that produced Ogatsu Suzuri ink stones--a craft with a 600-year history--were washed away in Ishinomaki, Miyagi Prefecture. Some of the artisans are still missing.

(Works of Satoshi Kumano)
In the town of Namie, Fukushima Prefecture, which is just north of the Fukushima No. 1 nuclear power plant, all workers at the Oborisomayaki pottery center were forced to evacuate.
They are discussing how to resume their traditional pottery practice, but they have no idea if they can ever return to Namie, which lies partly within the no-entry zone.
Even in places farther inland that escaped tsunami damage, many workshops of traditional crafts have lost orders and sales due to the decrease in tourists following the disaster.
If sales continue to fall, some traditional skills could disappear altogether. Even before the March 11 earthquake, Tohoku crafts had faced a sharp decline in people willing to carry on their traditions.

(Performance by Satoshi Kumano)
The Kurashino Craft Yuzuriha (Craft of Living--Yuzuriha) shop in Towada, Aomori Prefecture, is fighting the trend by holding shows and sales of Tohoku handicrafts around the country. It also sells crafts via its website.
The aim is "to increase sales routes and, as a result, support craftsmen and maintain traditions," said shop manager Yoko Tanaka, 56.
"People in Tohoku will be able to overcome hardships because they have long coped with its harsh natural environment," Tanaka said. "I want many people to see our handicrafts."
In Tokyo, a Tohoku handicraft trade show and sale is running until June 19 at the Tsuta Salon in the Minami-Aoyama district of Minato Ward. On show are woven textiles made from ramie, which on Japan's main Honshu island is only grown in Fukushima Prefecture.
Other products include handbags made with "sashiko" embroidery from Aomori Prefecture. The functional stitching was used in clothing to retain heat and reinforce the fabric.
From June 23 to 29, Kumano's handcrafted wooden music boxes will be on show at the Rin store in the Kita-Aoyama district. On June 26 from 1 p.m., Kumano will demonstrate a wooden hand organ that he made.
For details, visit the Kurashino Craft Yuzuriha website at (http://www.yuzuriha.jp/).
By TS on Jul 4, 2011
スポンサーサイト
tag : Earthquake