Sponsored Link
スポンサーサイト
Hiraizumi, Iwate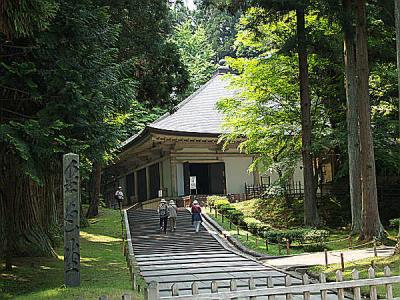 Hiraizumi (平泉町 Hiraizumi-cho) is a town located in Nishiiwai District, Iwate,
Japan
. And it will become one of the world heritages in June this year.
It was the home of the Hiraizumi Fujiwaras for about 100 years in the late Heian era and most of the following Kamakura period. At the same time it served as the de facto capital of Oshu, an area containing nearly a third of the
Japan
ese land area. At its height the population of Hiraizumi reached 50,000 or more than 100,000, rivaling Kyoto in size and splendor.
The first structure built in Hiraizumi may have been Hakusan Shrine on top of Mount Kanzan (Barrier Mountain). A writer in 1334 recorded that the shrine was already 700 years old. Although rebuilt many times, the same shrine is still standing in the same location.
In about 1100, Fujiwara no Kiyohira moved his home from Fort Toyoda in present day Esashi Ward, Oshu City to Mount Kanzan in Hiraizumi. This location was significant for several reasons. Kanzan is situated at the junction of two rivers, the Kitakami and the Koromo. Traditionally the Koromo River served as the boundary between
Japan
to the south and the Emishi peoples to the north. By building his home south of the Koromo, Kiyohira (half Emishi himself) demonstrated his intention to rule Oshu without official sanction from the court in Kyoto. Kanzan was also directly on the Frontier Way, the main road leading from Kyoto to the northern lands as they opened up. Kanzan was also seen as the exact center of Oshu which stretched from the Shirakawa Barrier in the south to Sotogahama in present day Aomori Prefecture.
Kiyohira built the large temple complex on Kanzan known as Chūson-ji. The first structure was a large pagoda at the very top of the mountain. In conjunction with this he placed small umbrella reliquaries (kasa sotoba) every hundred meters along the Frontier Way decorated with placards depicting Amida Buddha painted in gold. Other pagodas, temples and gardens followed including the Konjikido, a jewel box of a building intended to represent the Buddhist Pure Land and the final resting place of the Fujiwara lords.
Hiraizumi's golden age lasted for nearly 100 years, but after the fall of the Fujiwaras the town sank back into relative obscurity, and most of the buildings that gave the town its cultural prominence were destroyed. When the poet Matsuo Bashō saw the state of the town in 1689 he penned a famous haiku about the impermanence of human glory:
Natsu kusa ya! / Tsuwamono-domo ga / yume no ato
Ah, summer grasses! / All that remains / Of the warriors dreams. [1689]
The Historic Monuments and Sites of Hiraizumi are currently on the tentative list of UNESCO World Heritage Site status, and archeological work is being carried out to support this claim.
By TS on Jun 26, 2011
スポンサーサイト