Sponsored Link
スポンサーサイト
Harajuku / Tokyo / Tokyo & Kanto Area
Harajuku refers to the area around
Tokyo
's Harajuku Station, one station north of Shibuya on the Yamanote Line. It is the center of Japan's most extreme teenage cultures and fashion styles, but also offers shopping for grown-ups and some historic sights.

(Harajuku Station)
The focal point of Harajuku's teenage culture is Takeshita Dori (Takeshita Street) and its side streets, which are lined by many trendy shops, fashion boutiques, used clothes stores, crepe stands and fast food outlets geared towards the fashion and trend conscious teens.
In order to experience the teenage culture at its most extreme, visit Harajuku on a Sunday, when many young people gather around Harajuku Station and engage in cosplay ("costume play"), dressed up in crazy costumes to resemble anime characters, punk musicians, etc.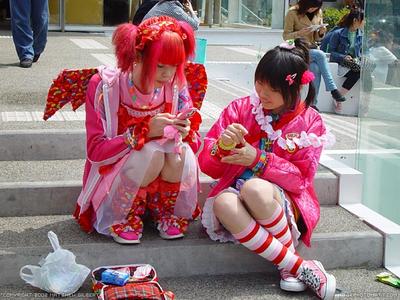 Shops, cafes and restaurants for all ages are found along Omotesando, a broad, tree lined avenue, sometimes referred to as
Tokyo
's Champs-Elysees. Omotesando Hills, a recently opened shopping complex along the avenue, has been attracting particularly lots of attention.
However, Harajuku is not only about teenage culture and shopping. Meiji Shrine, one of
Tokyo
's major shrines, is located just west of the railway tracks in a large green oasis shared with Yoyogi Park, a spacious public park. Beautiful ukiyo-e paintings are exhibited in the small Ota Memorial Museum of Art.
Harajuku Map
Famous Streets:
Takeshita Dori
Shops along Takeshita Dori tend to be open daily
from 11:00 to 20:00.
The symbol of Harajuku and birthplace of many of Japan's fashion trends, Takeshita Dori (Takeshita Street) is a narrow, roughly 400 meter long street lined by shops, boutiques, cafes and fast food outlets targeting Tokyo's teenagers.
Omotesando
Shops along Omotesando tend to be open daily
from 11:00 to 20:00.
Referred to as Tokyo's Champs-Elysees, Omotesando is a one kilometer long, tree lined avenue, serving as the main approach to Meiji Shrine. Numerous stores, boutiques, cafes and restaurants, including several leading fashion brand shops, stand along the avenue.
Shopping:
Omotesando Hills
Shops: 11:00 to 21:00 (Sun until 20:00). Restaurants:
11:00 to 23:00 (Sun until 22:00).
Opened in February 2006, Omotesando Hills with its intriguing interior design, consists of six floors (three of them underground) of upmarket shops, restaurants, cafes and beauty salons. Several apartments are located on top of the shopping complex.
Daiso Harajuku - 100 Yen Shop
Open daily from 10:00 to 21:00
This is one of the largest 100 Yen Shops in central Tokyo, offering a wide array of goods, including clothing, kitchenware, food and stationary on multiple floors at 105 Yen per item. It is located only a few steps from Harajuku Station along Takeshita Dori.
LaForet Harajuku
Open daily from 11:00 to 20:00
LaForet Harajuku is a trend setting shopping complex, consisting of seven floors of fashion boutiques and shops, mainly geared towards a young, female audience. The LaForet Museum on the top floor hosts various events and exhibitions.
Oriental Bazaar
Open from 10:00 to 19:00. Closed on Thursdays.
This is one of Tokyo's largest souvenir shops, very popular among foreign travelers in search of typical Japanese souvenirs, such as kimono, tableware, lamps, dolls, furniture and samurai related goods. The shop spans four floors.
Kiddy Land
Closed until summer 2012 for renovation!
This is one of Tokyo's most famous and popular toy stores. Located along the Omotesando, it offers six floors filled with all kinds of toys from electronic games to stuffed animals. Many major toy brands, including Disney, Barbie and Hello Kitty are present.
Louis Vuitton
Open daily from 11:00 to 20:00
The Louis Vuitton Omotesando store was opened in autumn 2002 as the company's largest store. The public store makes up five of the building's ten floors, which are designed as a stack of trunks rather than conventional floors.
Other Attractions:
Meiji Shrine
Daily from sunrise to sunset. No closing days. Free admission.
Meiji Shrine (Meiji Jingu) is a Shinto shrine dedicated to the deified spirits of Emperor Meiji and his consort, Empress Shoken. The buildings are surrounded by a beautiful, dense forest.
Togo Shrine
Free admission. The market is held on the first Sunday of
each month from 5:00 to 15:00. Not held under bad
weather conditions.
Togo Shrine is a Shinto shrine dedicated to Admiral Togo, who defeated the Russian fleet in the Russo-Japanese War in 1905. The Togo Antique Market is held around the shrine on the first Sunday of each month.
Ota Memorial Museum of Art
Admission: typically 700 yen, depends on the exhibit. Open daily 10:30 to 17:30. Closed Mondays and New Year's
Holidays (open if Mon is a public holiday and instead
closed the following Tues).
The small and elegant Ota Memorial Museum of Art exhibits selected ukiyo-e paintings and prints from the vast collection of the late Mr. Ota Seizo, which comprises of more than 10,000 pieces of art. Exhibits are changed every month.
NHK Studiopark (more details)
Please see the NHK Studiopark page for details on
hours and admission.
NHK Studiopark is a part of the NHK Broadcasting Center, which is open to the public. It gives visitors a chance to look behind the scenes of television broadcasting, including the production of a live program on most days.
Yoyogi Park
Daily from 5:00 to 20:00 (winter until 17:00). Facility
hours vary; typically 9:00 to 17:00.
Yoyogi Koen (Yoyogi Park) is one of Tokyo's largest and most pleasant city parks, featuring wide lawns, ponds and forested areas. It is a great place for jogging, picnicking and other outdoor activities.
National Yoyogi Stadium
Built for the 1964 Tokyo Olympics by renown architect Tange Kenzo, the stadium hosted the olympic swimming competitions. It is now also being used for ice skating and volleyball competitions, concerts and various other events.
How to get there
Harajuku is a station on the JR Yamanote Line, two stations south of Shinjuku and one station north of Shibuya (130 yen from either station).
Harajuku is also served by the Chiyoda Subway Line, which stops at Meijijingu-mae Station, next to JR Harajuku Station and provides a direct connection to Otemachi Station (15 minutes, 190 yen) near Tokyo Station. The Fukutoshin Subway Line also serves Meijijingu-mae Station.
Google Harajuku Map
View Larger Map
By TS on Dec 12, 2010
スポンサーサイト