Sponsored Link
スポンサーサイト
Ohara (大原) / Kyoto / Kyoto & Kansai
Ohara is a rural town nestled in the mountains of northern
Kyoto
, about one hour from
Kyoto
Station, but still technically located within
Kyoto
's city limits. Ohara is best known for Sanzenin Temple and particularly popular in mid November during the autumn leaf season, which typically occurs about one week earlier than in central
Kyoto
.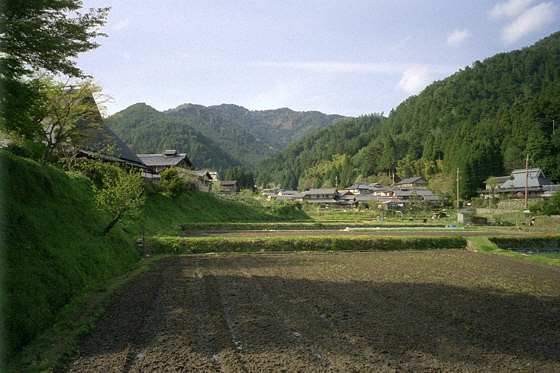 Sanzenin Temple is located part way up the forested mountains in the east of Ohara. It is a large temple with a variety of buildings and gardens, and was established in the early Heian Period (794-1185) by the great monk Saicho, who founded the Tendai sect of Japanese Buddhism. The path from the town to the temple is lined with numerous small shops. One of the local specialties on sale are
aisu kyuri
, cucumbers pickled in seaweed flavored ice water and served on a stick.

(Shops along the main approach to Sanzenin)
The temples surrounding Sanzenin also belong to the Tendai sect. They are quite small, and typically have only a couple of buildings or a garden. If you follow the walking trail behind the temples further into the forested mountain, you will eventually get to Otonashi Waterfall.
There are also a few attractions on the hillside on the opposite side of the valley, although there is generally less to see in this area. Jakkoin Temple, another temple of the Tendai sect, is the area's main attraction. The temple has a long history, but unfortunately suffered serious damage from a fire in 2000 in an act of arson. The area has a few shops, but not nearly as many as around Sanzenin.
In 2004 drilling took place in Ohara that allowed the town's ryokan (Japanese inns) to access hot spring water from over a kilometer deep within the earth. There are two ryokan near Jakkoin and one near Sanzenin where visitors can stay overnight, enjoying hot spring water baths after a day of sightseeing. For travelers with less time, the baths are also open to day trippers in combined lunch and bath sets.
Main Temples
Sanzenin Temple
Hours: 8:30 to 17:30 (until 16:30 from December to February)
Admission closes 30 minutes before closing time
Closed: No closing days
Fee: 700 yen
Sanzenin Temple is the main attraction of Ohara, around which most of the town's tourist activity is centered. The temple has a number of temple buildings, gardens, and walking paths to explore. There is a highly valued statue of the Amida Buddha on display that dates back to the 900s.
Jakkoin Temple
Hours: 9:00 to 17:00 (shorter hours during the winter)
Closed: No closing days
Fee: 600 yen
Jakkoin was founded around the year 600. A long flight of stairs leads up to the temple gate, which is particularly attractive during the autumn. Unfortunately, the main hall was burnt down in 2000, but it has since been rebuilt and holds a statue of the Buddhist deity Jizo. Jakkoin is famous for having served as the nunnery of a former empress.
Hosenin Temple
Hours: 9:00 to 17:00
Closed: No closing days
Fee: 800 yen (includes green tea and Japanese sweet)
Hosenin is a small temple with very attractive gardens, the most impressive of which has a large 700 year old pine tree which has been cultivated and pruned to resemble Mount Fuji. Visitors can admire the tree from a tatami room while being served tea. There is also a walking garden with large stones and a maple tree that is impressive during the fall.
Shorinin Temple
Hours: 9:00 to 17:00
Closed: No closing days
Fee: 300 yen
The temple was founded in 1013, and served as a location of practicing the Shomyo style of Buddhist chanting that was imported from China. The present main hall was built during the mid-Edo Period (1603-1867), and holds the temple's main object of worship, a statue of the Amida Buddha.
Jikkoin Temple
Hours: 9:00 to 17:00 (entry until 16:30)
Closed: No closing days
Fee: 700 yen (includes green tea and Japanese sweet)
Located just across from Sanzenin, Jikkoin is another temple that has an attractive garden and includes tea as part of its admission. Jikkoin's garden is a typical Japanese garden, with a pond, shrubs and variety of flowering plants. There are small walking paths, but the garden is best enjoyed from the temple building while seated on tatami.
Raigoin Temple
Hours: 9:00 to 17:00
Closed: No closing days
Fee: 400 yen
Raigoin is located quite deep within the forest. The distance from the shops and large crowds gives the temple an especially tranquil atmosphere. The temple was founded in the mid 9th century, its main hall and bell tower date back to the Muromachi Period (1333-1573) and a small stone pagoda was built in the Kamakura Period (1192-1333).
Otonashi no Taki
About a 10 minute walk from Sanzenin, Otonashi no Taki is an attractive waterfall located in the forest behind Ohara. Signs along walking paths clearly mark the way, so visitors don't need to worry about getting lost. The waterfall itself is like a stream that quietly trickles down the rocks. Otonashi is Japanese for "waterfall without sound", and according to legend the sound of the waterfall is gone because it fused with the sound of the nearby monks chanting.
How to get there
From
Kyoto
Station, the fastest way to reach Ohara is to take the Karasuma Subway Line to its terminal station Kokusaikaikan Station (20 minutes, 280 yen) and then
Kyoto
City Bus number 19 to Ohara (20 minutes, 340 yen, every 40 minutes). Alternatively,
Kyoto
City Bus number 17 provides a direct connection from
Kyoto
Station to Ohara (60 minutes, 580 yen, every 20 minutes) via Shijo-Kawaramachi (45 minutes, 510 yen). The bus rides are not covered by the 1-day bus pass.
How to get to and around Kyoto
By TS on Mar 28, 2011
スポンサーサイト
tag : Kyoto