Sponsored Link
スポンサーサイト
Tamozawa Imperial Villa / Nikko / Tokyo & Kanto
Tamozawa Imperial Villa blends Edo and Meiji Period architecture throughout its 106 rooms. The villa was erected in Nikko in 1899, using parts of a residence that originally stood in
Tokyo
.
Before being moved to Nikko, the building served initially as the
Tokyo
residence of a branch of the Tokugawa family and was later temporarily used as the Imperial Palace. In Nikko, it was enlarged into a summer residence and retreat for the Imperial Family, but suffered neglect after World War II. In the year 2000, the villa was opened to the public after extensive renovation works.
In addition to the building's long line of illustrious occupants, Tamozawa Imperial Villa is one of the largest remaining wooden buildings in Japan. The interior of the villa is a curious mix of Japanese and Western styles. Many floors are carpeted, and elaborate chandeliers hang from the ceilings. Yet the villa's Japanese elements, such as sliding paper doors and tatami flooring are prominent as well.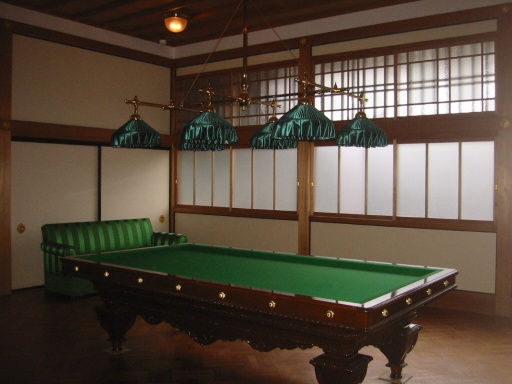 Although still impressive in size and grandeur, Tamozawa Imperial Villa currently occupies only one third of its original area. It now functions as a museum and memorial park, and is well equipped with multilingual displays for visitors. The manicured Japanese style garden, that surrounds the villa, has several maple trees which offer autumn colors usually around late October and early November.
How to get there
From JR or Tobu Nikko Station, take a Tobu bus bound for Chuzenjiko Onsen or Yumoto Onsen and get off at the Tamozawa bus stop. The bus ride takes about 10 minutes and costs 300 yen one way.
Tamozawa Imperial Villa can also be reached in about a 20 minute walk from Toshogu Shrine.

How to get to and around Nikko

Hours and Fees
Hours:
9:00 to 17:00 (until 16:30 from November through March)
Admission ends at 16:00.
Closed:
Tuesdays (or following day if Tuesday is a national holiday)
December 29 to January 1
Admission:
500 yen
By T.S. on Sep 16, 2010
スポンサーサイト