Sponsored Link
スポンサーサイト
Nakagusuku Castle / Okinawa Mail Island
Nakagusuku Castle is one of the castles, which were built across
Okinawa
during the era of the Ryukyu Kingdom.
The independent kingdom had existed for several centuries prior to becoming a Japanese prefecture in 1879.

(Nakagusuku Castle site shows beautiful ruins of a former Ryukyu castle)
Only ruins remain of the Nakagusuku Castle today, but these are well preserved, and the castle's division into multiple citadels can still clearly be recognized. There are also nice views of the surrounding area and Nakagusuku Bay from the castle.
Nakagusuku Castle is among the sites, which were added to the list of UNESCO World Heritage Sites under the collective title "Gusuku Sites and Related Properties of the Kingdom of Ryukyu" in the year 2000.
It is recommended to combine a visit to Nakagusuku Castle with a visit to nearby Nakamurake, a beautiful, traditional
Okinawa
n style residence from the 18th century.
How to get there

Nakagusuku Castle is located in Kita-Nakagusuku Village in central
Okinawa
Honto, about 20 kilometers north of Naha.
Take bus number 23 from Naha Bus Terminal to Futenma (about 40 minutes, frequent departures), transfer to bus number 58 and get off at the final stop "Nakagusuku Castle Park" after about 15 minutes.
By car, take the
Okinawa
Expressway and exit at the Kita-Nakagusuku Junction (the expressway toll from Naha to Kita-Nakagusuku is 300 Yen). From there, signs will lead you to the nearby castle.
How to get to and around Okinawa Island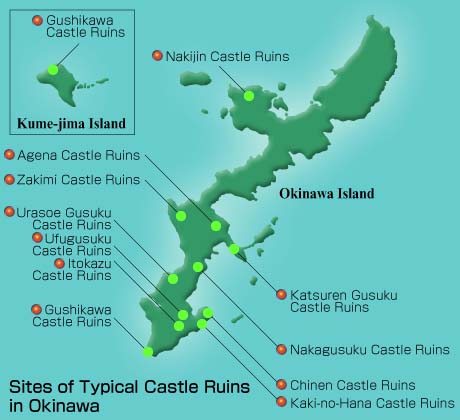 Hours and Fees
| | |
| --- | --- |
| Hours: | 8:30 to 17:00 (until 18:00 from June to September) |
| Closed: | No closing days. |
| Admission: | 300 yen |
By TS on Mar 31, 2011
スポンサーサイト
tag : Okinawa