Sponsored Link
スポンサーサイト
Shuri Castle / Okinawa Main Island
A city district of Naha today, Shuri is the name of the former capital of the Ryukyu Kingdom.
Shuri Castle (Shurijo) served as the administrative center and residence of the Ryukyu kings for several centuries, until
Okinawa
became a Japanese prefecture in 1879.
Wars and fires destroyed Shuri Castle multiple times over the centuries, most recently in the Battle of
Okinawa
in 1945. The current buildings are beautiful reconstructions dating from 1992.

(Seiden (Main Hall))
The castle's main buildings stand on top of a hill and are approached through several gates. The Seiden (Main Hall), former venue of major affairs of state and ceremonies, is the most lavishly decorated building and stands in front of Una Plaza.
The plaza is encircled on the other three sides by the Hokuden (North Hall) and Nanden (South Hall), former administrative buildings, which are now housing related exhibitions, and the Hoshinmon (Hoshin Gate).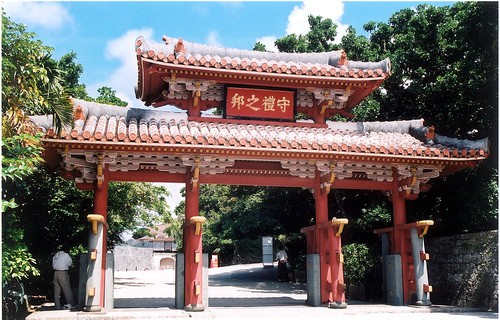 (Shureimon)


(Zuisenmon)
There are several other sights in the Shuri Castle Park surrounding the castle. First among them is the Tamaudun, the mausoleum of the Ryukyu kings, consisting of three closed chambers: the left one for kings and queens, the right one for princes and princesses, and the central one for storing recently deceased bodies until undergoing a local ritual of bone cleaning a few years later.
Also in the vicinity of the castle are the
Okinawa
Prefectural Museum and two small temples, the Enkakuji and Bezaitendo.
In the year 2000, the Tamaudun mausoleum and Sonohyanutaki Gate were among the structures added to the list of UNESCO World Heritage Sites under the collective title "Gusuku Sites and Related Properties of the Kingdom of Ryukyu".
How to get there
Shuri Castle Park can be accessed by bus number 1, 17 or 46. Get off at "Shurijo Koen Iriguchi", from where the park can be reached in a short walk. Alternatively, Shuri Station on the
Okinawa
Monorail (Yui Rail) is a 15 minute walk from the park.
How to get to and around Naha
Hours and Fees
Shuri Castle
Hours:
9:00 to 18:00 (March to June)
8:30 to 18:30 (July to September)
9:00 to 18:00 (October to November)
9:00 to 17:30 (December to February)
Closed:
Irregular closures for maintenance.
Admission:
800 yen
Mausoleum
Hours:
9:30 to 18:30
Closed:
No closing days.
Admission:
200 yen
By TS on Apr 1, 2011
スポンサーサイト
tag : Okinawa