Sponsored Link
スポンサーサイト
Yaeyama Islands / Okinawa
The Yaeyama Islands are both the southernmost and westernmost inhabited islands of Japan.
Together with the Miyako Islands and the
Okinawa
Islands they make up the three main island chains of
Okinawa
Prefecture.

(Kabira Bay on Ishigaki Island)
With their tropical atmosphere and laid back, rural lifestyle, the Yaeyama Islands are a popular getaway destination for those wishing to escape the hustle and bustle of Japan's metropolises. This island paradise offers beaches, snorkeling, diving and relaxation.
Of the Yaeyama Islands, Ishigaki Island is the most populated and serves as the region's transportation hub. Other islands include the jungle covered Iriomote Island and Taketomi Island, famous for its beautifully preserved, traditional Ryukyu village. Five additional islands comprise the rest of the island chain and offer beaches, snorkeling and diving.
How to travel between Tokyo and the Yaeyama Islands

JTA (Japan Transocean Air), a member of the JAL Group, offers one daily flight between Tokyo's Haneda Airport and Ishigaki Airport on Ishigaki Island, the transportation hub of the Yaeyama Islands.
The flight to Ishigaki is direct and takes around three hours, while the return flight makes a stop at Miyako or Naha and takes about four hours. The regular one way fare is about 60,000 yen; however, discount tickets are usually available for between 26,000 and 38,000 yen. An air pass can be of great value on these flights.
Alternatively, there are more frequent, indirect flights to Ishigaki via Naha on the
Okinawa
Main Island:
Orientation and how to get around the Yaeyama Islands
Yaeyama Islands Map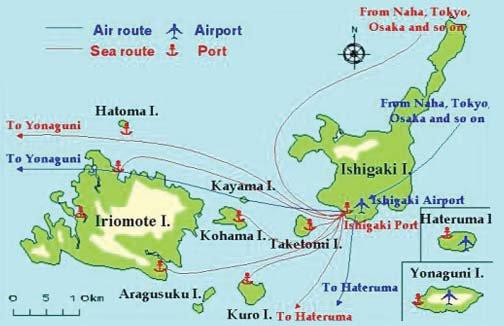 Ferries and airplanes connect Ishigaki Island with the other Yaeyama Islands. Please visit our Ishigaki, Iriomote and Taketomi Island pages for information on how to get to and around the respective islands.
Below are access details for some other islands in the Yaeyama island group. Prices are approximate and refer to one way journeys. In case of airplanes, prices refer to regular one way fares.
To Kohama Island:
25 minutes, 1000 yen by high speed boat from Ishigaki
To Kuro Island:
25 minutes, 1000 yen by high speed boat from Ishigaki
To Yonaguni Island:
30 minutes, 9500 yen by airplane from Ishigaki Airport
95 minutes, 27500 yen by airplane from Naha Airport
4.5 hours, 3500 yen by ferry from Ishigaki
To Hateruma Island:
2 hours, 2000 yen by ferry from Ishigaki
1 hour, 3000 yen by high speed boat from Ishigaki
By TS on Apr 12, 2011
スポンサーサイト
tag : Okinawa