Sponsored Link
スポンサーサイト
Ainokura Village
Set far back in the valley, Ainokura is the most remote village in the Gokayama region. It is also the largest of the villages with nearly 20 gassho-zukuri farmhouses.
Many of them remain private residences, although a few have been converted into restaurants, museums, and minshuku.
Ainokura, along with Suganuma and Ogimachi, was declared a UNESCO world heritage site in 1995. Although it is less developed and harder to get to than Ogimachi, Ainokura is quieter and sees less tourist traffic, and offers similar attractions including the highly recommend overnight at a farmhouse.
Being so remote, Ainokura, along with the rest of Gokayama, has been able to maintain a lot of its traditional culture. This can be seen in its folk dances and music, which use a number of traditional instruments unique to the area. For example, the sasara, an instrument made of over a hundred wooden clappers strung together, is symbolic of the region and is a popular souvenir.

(Sasara and other Gokayama instrument)


(Making Traditional Washi Paper)
Gokayama, especially the towns around Ainokura, is well known for its washi paper. Legend has it the technique was brought here from Kyoto at the end of the Heian Period when survivors of the Taira Clan escaped to this region after their defeat by the Minamoto Clan. There are several stores in the area where you can observe local artisans making washi paper as well as try your hand at making some yourself.
Area Map
Folk Museum Number 1
Hours: daily 8:30 to 17:00
Admission: 200 yen (includes both museums)
One of two houses that make up the Ainokura Folk Museum, this gassho-zukuri farmhouse has been converted into a small museum displaying daily life in the Gokayama region during the Edo Period.

Folk Museum Number 2
Hours: daily 8:30 to 17:00
Admission: 200 yen (includes both museums)
This is the second of two buildings that make up the Ainokura Folk Museum. Also a former farmhouse, it has displays on washi paper making and other industries of the region.

Viewpoint
The viewpoint above Ainokura is a five to ten minute walk up the mountain. The trail begins behind the information building at the parking lot, goes through a few fields and connects with a small road. If you continue up the hill on the road you will be rewarded with nice aerial views of the village.
Attractions around Ainokura:
Gokayama Washi
The Gokayama region has been well known for its washi paper since the art was brought here by Taira Clan refugees from Kyoto. At this store/factory you can watch how washi paper is made, or try your hand at making some yourself (advance notice required).

Uta no Yakata
Hours: 10:00 to 16:00
Closed: December through March
Admission: 200 yen
Uta no Yakata is a museum dedicated to the unique music of the Gokayama region. Here you can watch videos of the traditional music and dance, and learn to play some of the instruments such as the sasara.

Murakami-ke House
Hours: 8:30 to 17:00 (Dec to Mar 9:00 to 16:00)
Closed: 2nd and 4th Wednesdays every month
Admission: 300 yen
This farmhouse turned museum is known for its owner who gives tours of the house which end with performances of local folk songs accompanied by regional instruments.
How to get there
By bus
Ainokura is a stop along the bus route between Ogimachi in Shirakawa-go and Takaoka Station on the JR Hokuriku Line. The bus ride from Ogimachi to Ainokura takes 45 minutes and costs 1250 yen. Get off at "Ainokura-guchi", from where the village can be reached in a 5 minute walk. There are only four buses per day (see timetable).
Note that in Ogimachi, the buses stop at the "Ogimachi" bus stop rather than the "Shirakawa-go" bus stop (see map).
By car
From Ogimachi, Ainokura can be reached in about 45 minutes along National Route 156. You can cut travel time by a few minutes by taking the Tokai-Hokuriku Expressway between Shirakawago and Gokayama IC (550 yen expressway tolls). From Gokayama IC, Ainokura is reached in about 15 minutes.
How to get to and around Shirakawa-go and Gokayama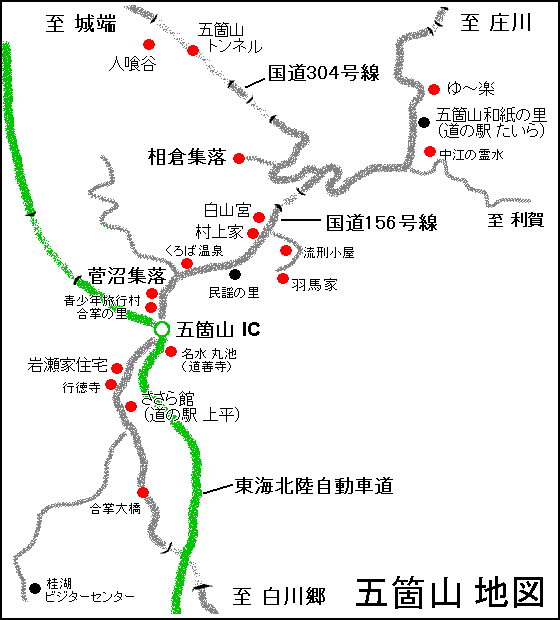 By TS on Apr 23, 2011
スポンサーサイト
tag : Shirakawa-Go