Sponsored Link
スポンサーサイト
Suganuma Village / Shirakawa-go and Gokayama / Chubu District
Suganuma, one of the main attractions of Gokayama, is made up of two areas, Suganuma Village and the Gokayama Gassho no Sato.
Pleasant and easy to explore on foot, the two areas are connected to each other by a tunnel, which also connects to the parking lot on the hill overlooking the village via an elevator.
Suganuma Village and nine of its gassho-zukuri farmhouses, were designated a UNESCO world heritage site along with Ainokura and Ogimachi in 1995. A beautiful place to see gassho-zukuri farmhouses, the ones here have been well preserved and a few of them have become restaurants, minshuku, and museums showing the daily life and the washi paper and gunpowder industries that sustained the region.
On the other end of the tunnel, the Gokayama Gassho no Sato has a number of traditional farmhouses which have been relocated here in order to save them from destruction. However no one lives in them these days; they are instead used by school groups who can stay overnight in the houses and experience activities from traditional Gokayama life.
Area Map
Saltpeter Museum
Hours: daily 9:00 to 16:00
Closed: December 29 to January 3
Admission: 210 yen (300 yen with Folk Museum)
Making saltpeter, an ingredient in gunpowder, was an important industry for the region during the Edo Period. This museum has exhibits on the procedures, tools and history of the industry in Gokayama.

Folk Museum
Hours: daily 9:00 to 16:00
Closed: December 29 to January 3
Admission: 210 yen (300 yen with Gunpowder Museum)
This folk museum displays tools and household items used in daily life. Some of the exhibited items include tools used for farming, raising silkworms and making washi paper.

Gassho Cottages
This collection of relocated gassho-zukuri farmhouses is now a place where school groups can stay overnight and participate in activities based on Gokayama traditional life. Although not aimed at the individual traveler, the area is open to everyone, and you are free to see the houses from the outside.

Takenaka-ke House
Hours: daily 9:00 to 17:00
Admission: 300 yen
This former residence has been preserved as it was when it was a working farmhouse during the Edo Period. It is located on the hill above the parking lot of the Gassho Cottages.
Attractions around Suganuma:
Iwase-ke House
Hours: daily 9:00 to 17:00
Admission: 200 yen
This well preserved gassho-zukuri farmhouse is the largest one of its kind in the region. The first floor has rooms which were designed to entertain visiting lords, while the spacious upper floors display tools and household items used for farming and raising silkworms.
How to get there
By bus

Suganuma is a stop along the bus route between Ogimachi in Shirakawa-go and Takaoka Station on the JR Hokuriku Line. The bus ride from Ogimachi to Suganuma takes 30 minutes and costs 840 yen. There are only four buses per day (see timetable). Note that in Ogimachi, the buses stop at the "Ogimachi" bus stop rather than the "Shirakawa-go" bus stop (see map).
By car

From Ogimachi, Suganuma can be reached in about 30 minutes along National Route 156. You can cut travel time by a few minutes by taking the Tokai-Hokuriku Expressway between Shirakawago and Gokayama IC (550 yen expressway tolls). From Gokayama IC, Ainokura is reached in about 2 minutes.
How to get to and around Shirakawa-go and Gokayama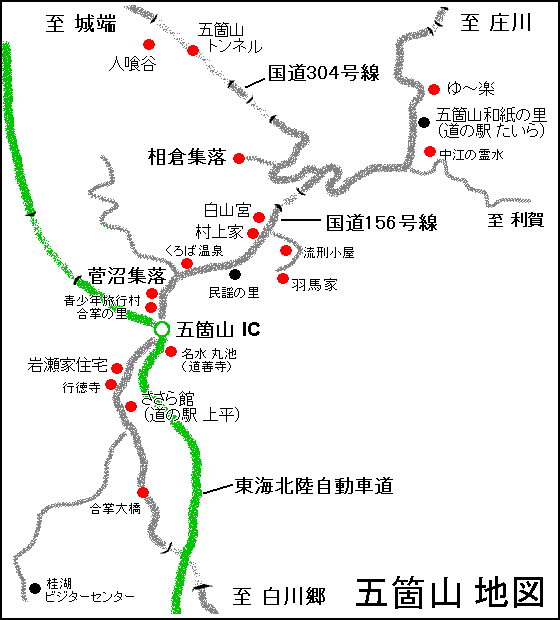 By T.S. on May 13, 2011
スポンサーサイト
tag : Shirakawa-Go