Sponsored Link
スポンサーサイト
Ogimachi Village / Shirakawa-go and Gokayama / Chubu District

(Ogimachi Village)
Ogimachi is the largest village and main attraction of Shirakawa-go. Declared a UNESCO world heritage site in 1995, the village is home to several dozen well preserved gassho-zukuri farmhouses, some of which are more than 250 years old.
The farmhouses are quite amazing structures, designed to withstand the harsh winters while providing a place to work and live, and are best seen either covered in snow or surrounded by green fields. Many of the farmhouses are now restaurants, museums or minshuku, where you can stay overnight.
A number of farmhouses from the surrounding villages have been relocated to an open air museum across the river from the town center in an effort to save them from destruction. This museum along with the large concentration of farmhouses and attractions in town and the area's accessibility make Ogimachi the best place in Shirakawa-go and Gokayama to see gassho-zukuri farmhouses.
Area Map
Gassho-zukuri Minkaen
Hours: August 8:00 to 17:30, April to November 8:40 to 17:00, December to March 9:00 to 16:00
Closed: Thursdays in December through March
Admission: 500 yen
This open air museum lies across the river from the village center. It exhibits farmhouses and other structures relocated to Ogimachi in order to save them from destruction.

Shiroyama Viewpoint
The Shiroyama Viewpoint is north of the village center and offers nice views of Ogimachi and its farmhouses. The viewpoint can be accessed via a walking trail (closed in winter) in about 15 to 20 minutes from the village center or by a shuttle bus, which stops outside the Gassho-zukuri Minkaen open air museum.

Myozenji Temple
Hours: 9:00 to 19:00 (for entrance to the main building)
Admission: 300 yen including entrance to Myozenji-ke
This temple is unusual as it has a thatched roof rather than the typical tiled roof seen on most temples. The main hall can be entered through the Miyozenji-ke house next door.

Wada-ke House
Hours: 9:00 to 19:00
Admission: 300 yen
The Wada family was one of the wealthiest families and village leaders of Ogimachi. Their former home is the largest gassho-zukuri farmhouse in the town, and is now open to the public as a museum.

Kanda-ke House
Hours: 8:30 to 17:30
Closed: Wednesdays in January and February
Admission: 300 yen
This picturesque house is one of the best preserved farmhouse turned museums in Ogimachi. Located in the center of town, you can get good views of the surrounding houses from the windows on its upper floors.

Nagase-ke House
Hours: 9:00 to 19:00
Admission: 300 yen
The Nagase family were doctors for the Maeda lords in Ishikawa Prefecture before relocating to Ogimachi. Their farmhouse turned museum exhibits some medical tools and gifts from the Maeda family. The upper floors display many tools for farming and raising silkworms.

Myozenji-ke House
Hours: 9:00 to 19:00
Admission: 300 yen
The proprietor of this house speaks English and is more than happy to introduce it to visitors. This farmhouse is connected to Myozenji Temple next door and is where the priest of the temple lives. Admission to the house includes admission to the temple hall.

Doburoku Festival Museum
Hours: 9:00 to 19:00
Closed: December through March
Admission: 300 yen
This museum has displays on the Doburoku Festival held every year on October 14th and 15th. A feature of the festival is Doburoku Sake which is produced by the shrine and can be sampled at the museum.

Shirakawa-go no Yu
Hours: 7:00 to 21:00
Admission: 700 yen
The Shirakawa-go no yu is a combined minshuku and bath house that offers hot spring bathing to the visitors of Ogimachi. A small discount is offered to guests staying overnight at one of the traditional farmhouses in the area.
Attractions outside Ogimachi:
Toyama-ke House
Hours: 8:30 to 17:00 (December to March 9:00 to 17:00)
Closed: Wed (Tues if Wed is a holiday), Dec 29 to Jan 3
Admission: 210 yen
Located about 15 minutes by car outside of Ogimachi, this old farmhouse now stands as a museum displaying typical period life. The farmland around the house continues to be worked by local farmers.
How to get there
Ogimachi is the transport hub of the Shirakawa-go region, where the bus lines from Takayama, Nagoya, Kanazawa and Takaoka meet. There are two main bus stops: "Shirakawa-go" bus stop outside the open air museum and "Ogimachi" bus stop north of the village center. Ogimachi is small and can be easily explored on foot.
How to get to and around Shirakawa-go and Gokayama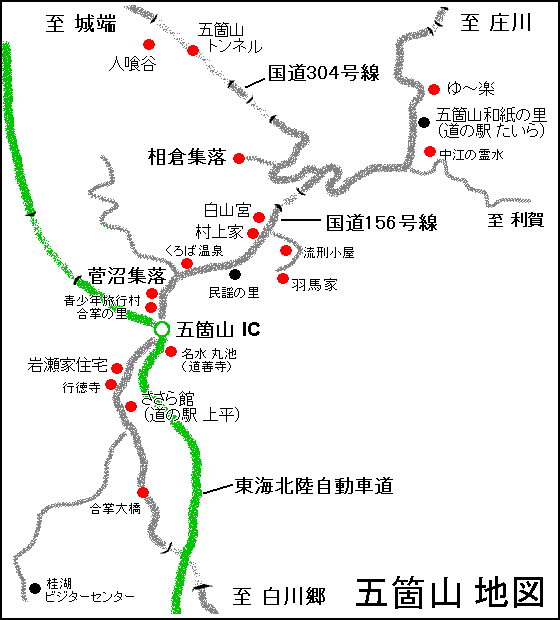 By T.S. on May 20, 2011
スポンサーサイト
tag : Shirakawa-Go