Sponsored Link
スポンサーサイト
The 2010 Setouchi International Art Festival is held from July 19 to October 31, 2010
The first ever
Setouchi
International Art Festival is currently being held on seven islands in the Seto Inland Sea (Setonaikai), the sea which separates Honshu and Shikoku, two of Japan's main islands.
It is a festival of contemporary art, intended to take place once every three years from now.
Contemporary art has gained a prominent position in the region in recent decades thanks to various art projects by the Benesse Corporation on the island of Naoshima and more recently on the island of Inujima, both of which also serve as festival venues.
The art festival is expected to further strengthen the region's position as a leading site for contemporary art and to spread the art to additional islands.

(Teshima sense)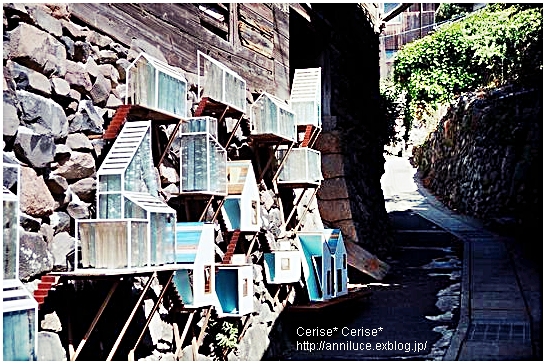 (A Town Between the Sky and the Sea)
Like many rural parts of Japan, the islands in the Seto Inland Sea have been suffering from massive depopulation in recent decades, while their population has been aging at a rapid pace, causing a wide range of problems. One of the festival's main goals is to counteract these trends and revitalize the region in a sustainable and creative way by bringing contemporary art and tourism onto the islands.
Visitors to the island will be charmed not only by the intriguing art but also by the laid back, slow paced rural atmosphere of the islands' villages and the beauty of the island scenery. In many ways the festival resembles the Echigo-Tsumari Art Triennial, a similar art festival, which is held once every three years in a rural mountainous area of Niigata Prefecture.

(Farther Memory / Teshima)
The Art

During the three and a half month long festival nearly 100 artworks by artists from Japan and overseas will be exhibited on the seven islands and around the ports of Takamatsu and Uno in addition to the museums and art sites already in existence. A considerable number of works will remain permanently on the islands after the end of the festival, justifying a visit also after the end of the festival.
The artworks are found across the islands. Some of them stand outdoors in the fields, along the coast or in a village. Others make use of the numerous old homes which have been left abandoned due to the depopulation. The buildings are employed as exhibition space or have been converted into artworks themselves. In addition, there are the existing museums and art sites on Naoshima and Inujima.

(Lee Ufan Museum / Naoshima) / (Momo's Game and Victory of the Naked Peach / Megijima)
By T.S. on Aug 10, 2010
スポンサーサイト
tag : Setouchi