Sponsored Link
スポンサーサイト
Lake Kussharo (屈斜路湖) / Akan National Park / Hokkaido
Lake Kussharo is a beautiful caldera lake in Akan National Park. With a circumference of 57 kilometers it is the park's largest lake.
Various outdoor activities, such as fishing, hiking, kayaking and cycling, can be enjoyed around the lake.
A further attraction are several outdoor hot spring baths (rotenburo) which are located along the lake's shores and can be used for free and, unlike most other hot spring baths in Japan, in swim suits. Note, however, that some of these baths do not look very clean.
A particularly nice spot to visit is the Wakoto Peninsula at the lake's southern end. The peninsula offers attractive walking trails through the forest, two more outdoor baths and some sulfurous vents at its tip.
Sightseeing Spots:
Sunayu Beach

Hours: Always open
Admission: Free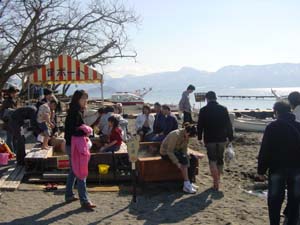 This sand beach hides hot spring water just below its surface. Visitors can scoop out a hole in the sand and soak their feet while enjoying views of the lake. There are benches along the beach and the parking area has a few food stalls with refreshments.   
Ainu Folklore Museum
Hours: 9:00 to 16:30
Closed: December 16 to January 15
Admission: 400 yen
English: Moderate
Interesting displays and artifacts highlight various aspects of Ainu life, language and culture. 
Public Baths:
Ikenoyu Open Air Bath
Hours: Always open
Admission: Free
Ikenoyu Rotemburo is a lakeside, open air bath with nice views of Lake Kussharo. The bath is gender mixed and has limited changing facilities and privacy. 
Kotan Open Air Bath
Hours: Always open
Admission: Free
This rustic bath is so close to the lake that it gives bathers the sensation of bathing in the lake itself. Sunsets are supposed to be nice from this bath. The changing facilities are limited, and the men's bath is separated from the women's bath only by a low stone wall. 
Wakoto Peninsula Open Air Bath
Hours: Always open
Admission: Free
An outdoor bath (rotemburo) on the Wakoto Peninsula offers a nice view of the lake and relative seclusion. However, the water levels are sometimes low and the water dirty, making it somewhat unappealing in appearance. The bath is gender mixed. 
Wakoto Peninsula Indoor Bath
Hours: Always open
Admission: Free
This small indoor bath is located in a wooden hut along the walking trail that leads around the Wakoto Peninsula. It is pleasantly secluded, but not always well maintained. The bath is gender mixed.
By TS on Jun 24, 2011
スポンサーサイト
tag : Hokkaido