Sponsored Link
スポンサーサイト
Lake Masshu (摩周湖) / Akan National Park / Hokkaido

(Lake Masshu in Summer)
Lake Masshu is a crater lake in Akan National Park. It is considered by many to be Japan's most beautiful lake.
It even vies for the position of "clearest lake in the world". Loved for its clear blue water, the lake is also known for heavy fog, which frequently covers it up.
There are two observation decks from where you can enjoy beautiful views of the lake on clear days.
Observation deck number one offers various tourist amenities and an expensive parking lot (410 yen), while observation deck number three is simpler, smaller and has fewer, free parking spaces.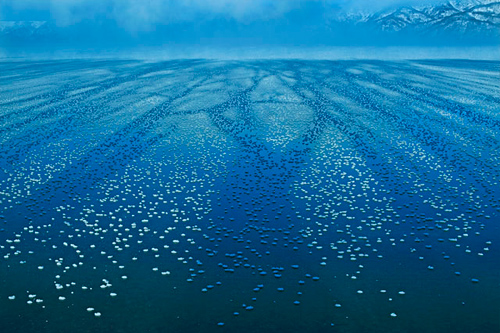 (Lake Mashu in Winter)
How to get there
By car, you can reach Lake Masshu in about one hour from Lake Akan and 15 minutes from Kawayu and Lake Kussharo.
Scheduled bus service by Akan Bus to Lake Masshu is rather infrequent. There are only about 2-5 buses per day between Akankohan and Kawayu via Lake Masshu, which usually pause for about half an hour at the observation deck number one.
How to get to and around Akan National Park
By TS on May 18, 2011
スポンサーサイト
tag : Hokkaido