Sponsored Link
スポンサーサイト
Rebun Island / Hokkaido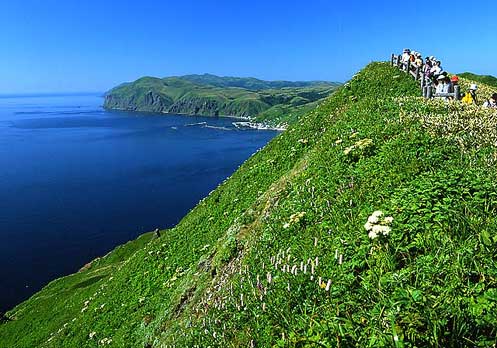 Rebun Island is a longish island, about 10 km north of Rishiri Island and 50 km off the northern tip of
Hokkaido
.
Together with Rishiri Island, Rebun belongs to the Rishiri-Rebun-Sarobetsu National Park.
Rebun Island is most famous for its rich flora, which features many alpine flowers, some of which cannot be found anywhere else on the world.
The flowers are in bloom from around June to August, the best time to visit Rebun. Not many tourists come to the island during the long and harsh winters.
The alpine flora, the beautiful natural scenery of Rebun and views of nearby Rishiri can be enjoyed from a network of pleasant walking and hiking trails.
Cape Sukoton (Sukoton Misaki)
Cape Sukoton is the northernmost point of Rebun Island. Besides the fine views and a souvenir shop, there is not much to be found. Cape Sukoton is a terminal point of the beautiful 4-hour and 8-hour hiking courses.
Cape Gorota (Gorota Misaki)
Cape Gorota is a beautiful cape in the northern part of the island. A scenic walking trail, part of the 4-hour and 8-hour hiking courses, connects Cape Sukoton via Cape Gorota with Gorota Beach.
Gorota Beach (Gorotahama)
Gorota Beach is a sand beach on the western coast of Rebun, popular among wind surfers. It offers beautiful views of nearby Cape Gorota. The 4-hour and 8-hour hiking courses pass along the beach.
Rebun Usuyukiso Area
This is an area with a relatively high number of Rebun Usuyukiso, the Rebun version of the Edelweiss. The Rebun Usuyukiso is one of several protected, very rare kinds of alpine flowers found on Rebun Island.
Motochi
Motochi is the name of the island's southwestern region, which is characterized by a scenic, steep coastline. A small village with ryokan and distinctively shaped rocks resembling a cat's head and a Jizo statue, can be found along the coast.
Momoiwa
Momoiwa ("Peach Rock") is a roundish hill in the Motochi region. Alpine flowers in combination with views of nearby Rishiri Island can be enjoyed from the Momoiwa observation deck and the hiking course that leads along the ridge of the hills to Shiretoko.
By TD on Jun 1, 2011
スポンサーサイト
tag : Hokkaido