Sponsored Link
スポンサーサイト
Rishiri Island (利尻島) / Hokkaido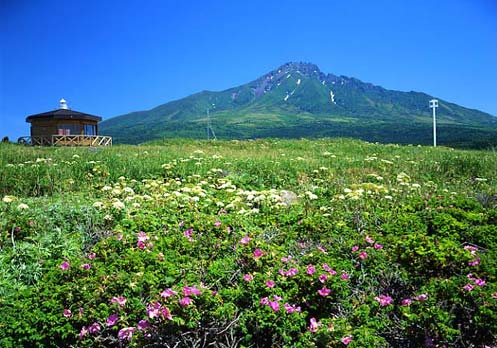 Rishiri Island is a remote, small island about 20 kilometers off the northern tip of
Hokkaido
, with a circumference of about 60 kilometers and Mount Rishiri, a dormant volcano, at its center.
Together with neighboring Rebun Island, Rishiri belongs to the Rishiri-Rebun-Sarobetsu National Park. Many of the island's 6000 inhabitants are making a living from tourism and fishing.
Rishiri Island offers various hiking and walking opportunities. The climb to the top of Mount Rishiri takes a full day and is quite challenging. There is also a cycling road along the island's northern coast.
A visit to Rishiri Island is most attractive during the summer months (June to August), when the island's alpine flora is in bloom. Not many tourists visit the island during the long and harsh winters.
Mount Rishiri
Mount Rishiri, commonly referred to as Rishiri-Fuji, is a 1721 meter tall dormant volcano in the center of Rishiri. Cars can proceed as far as the 3rd Station on the Oshidomari side and as far as the 5th Station on the Kutsugata side.
Pon Yama (Mount Pon)
Mount Pon (444 meters above sea level) is a small peak at the side of Mount Rishiri. Its summit can be reached in a pleasant 30-45 minute walk from Mount Rishiri's 3rd Station or in about 60-90 minutes from Hime Pond.
Mount Rishiri 5th Station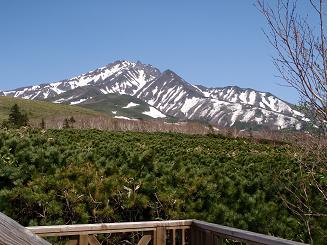 From the Kutsugata side of Mount Rishiri, cars can proceed as far as the 5th Station. An observation deck with nice views can be reached in a short walk from the 5th Station's parking area.
Cape Peshi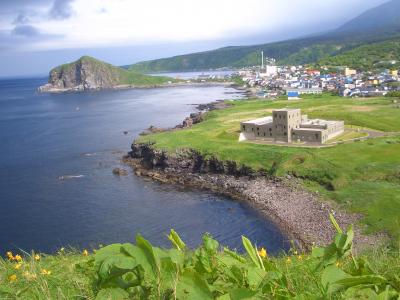 Cape Peshi is located just next to the port of Oshidomari, Rishiri's largest town. There is a walking trail up to the top (5-10 minutes), from where nice views of Oshidomari and Mount Rishiri can be enjoyed.
Rishirifuji Onsen
Rishirifuji Onsen is a hot spring with indoor and outdoor baths. It is located at the southern end of the town of Oshidomari. Admission costs 400 Yen.
Hime Pond
Hime Pond (Himenuma) is a man made pond at the foot of Mount Rishiri. The views of the mountain reflecting in the pond are well advertised.
Cycling Road
A road for exclusive use by bicycles follows the northern coast of Rishiri from Hime Pond to Kutsugata for about 20 kilometers. Bicycles are provided by many of the island's accommodations and some rental shops.
Otatomari Pond
Otatomari Pond is a beautiful pond in the south of the island. The view of the pond with Mount Rishiri as backdrop is splendid.
Fishing Villages
Small fishing villages can be found along the whole coast of Rishiri Island. Rishiri is particularly famous for its sea urchins (uni) and konbu seaweed.
By TS on Jun 2, 2011
スポンサーサイト
tag : Hokkaido