Sponsored Link
スポンサーサイト
Kamuiwakkayu Falls / Shiretoko Atraction / Hokkaido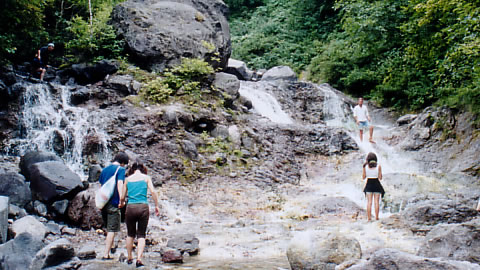 (Kamuiwakkayu Falls, when it was still accessible to the public, and climbing gear)
A visit to Kamuiwakkayu Falls (Kamuiwakkayu-no-taki) used to be one of Japan's ultimate hot spring experiences.
However, the upper, most spectacular section of the river has been closed to the public, and it is now possible to walk only a 100 meter long lower section of the river.

(Kamuiwakkayu Falls)
The official reason for the closure is the danger of falling rocks, however, numerous slipping accidents and the destructive effects that the increasing number of tourists had on the river bed, are probably additional reasons.
In the past, visitors could hike up the mountain stream for about 20-30 minutes, wading through the water and climbing minor waterfalls along the way, as the water temperature would steadily increase. At the top a hot spring bath in the natural basin at the base of the waterfall would be the reward. Today, only the lukewarm lower 100 meters of the river are open to the public, but they can still make for an enjoyable experience. Pools for bathing, however, do not exist in the river's lower part.
How to get there
By car
Caution: The 10 kilometer dirt road, which leads from the Shiretoko Five Lakes to the trailhead to Kamuiwakkayu Falls is closed to private vehicles due to construction work! Only between mid July and mid September will a shuttle bus be providing access to the trailhead (see details below).
By bus
Shuttle buses operate between Utoro, Shiretoko Nature Center, Shiretoko Five Lakes and the trailhead to Kamuiwakkayu Falls from mid July to mid September (July 13 to September 20, 2010). The one way journey from Utoro takes about one hour and costs 900 yen.
How to get to and around Shiretoko National Park
By TS on May 10, 2011
スポンサーサイト
tag : Hokkaido