Sponsored Link
スポンサーサイト
Biei (美瑛) / Hokkaido
Biei (美瑛町, Biei-cho) is a town located in Kamikawa (Ishikari) District, Kamikawa, Hokkaido, Japan.
Biei is famous for its views of wide fields and hills, and is used as a backdrop for many Japanese commercials and TV programmes. The bright colours of its fields attract thousands of visitors in July and August.
The town also houses the Shinzo Maeda Photo Art Gallery.
Biei is a small town surrounded by a picturesque landscape of gently rolling hills and vast fields. A pleasant way to enjoy the charm of Biei is by cycling or driving through the hills and visiting some of the flower fields and famous trees along the way. The area northwest of the town center is named "Patchwork Road" and the area south of the town center "Panorama Road".
Patchwork Road

Named after the appearance of its fields seen from above, the Patchwork Road is the scenic area northwest of Biei's town center. Note that it refers to an area rather than a single road. It offers beautiful rural landscapes around the year, especially during the green and colorful summer and autumn months and during winter when everything is covered under a deep layer of snow.

(Parents and Child Tree)
Over the years, the area's beauty has attracted the attention of marketing professionals, and some trees were used in commercials or for package label designs. Among these famous trees are a row of larch trees on the Mild Seven Hill (from a cigarette commercial), a poplar named Ken and Mary Tree (from a car commercial) and the Seven Star Tree (which appeared on cigarette packages). A group of oak trees is known as the Parents and Child Tree.
Other sites of interest in the Patchwork Road area are the Hokusei Hill Observatory, a pyramid structure that offers nice views over the fields of Biei and the Zerebu Hill, a flower park which can be explored not only on foot but also by various types of carts.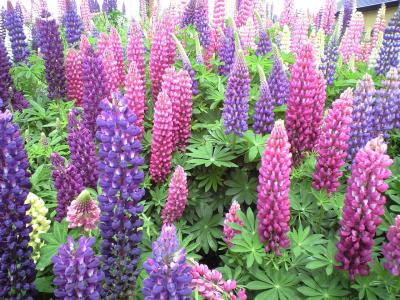 Panorama Road

Like the Patchwork Road, the Panorama Road is an area rather than a single road. It offers much of the same rural and scenic beauty as the Patchwork Road and is ideal for exploration by car or bicycle, although some people will prefer electrically powered bicycles due to the hilly terrain.
Among the area's highlights is Shikisai Hill, a spacious flower park with various flower fields (including lavender), which can be viewed by walking along the trails, by renting golf or buggy carts or by taking a ride on tractor pulled wagons. In winter, snow mobiles are available. Another, smaller flower park is Kanno Farm, located along the national route which connects Biei with Furano.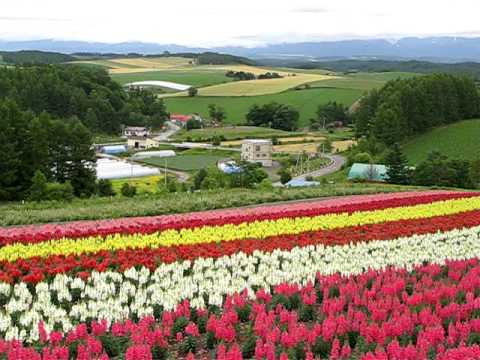 (Shikisai Hill)
How to get there
Biei is located between Asahikawa and Furano, about a 30-40 minutes car or train ride from either city. The train ride cost 530 yen from Asahikawa and 620 yen from Furano. There is about one train per hour.
Biei is also located close to Asahikawa Airport and can be reached from there directly by the Lavender-go bus (15 minutes, 360 yen, one bus every 1-2 hours), which connects Asahikawa Station with Asahikawa Airport, Biei and Furano.
Rental bicycles (including electrically powered ones) are available from multiple stores in central Biei. The typical rate is 200 yen per hour for a regular bicycle and 600 yen per hour for an electrical one.

(Twinkle Buses waiting in front of Biei Station)
Twinkle buses are sightseeing buses for exclusive use by travelers using JR (reservations are mandatory and can be made at JR railway stations across Hokkaido, which operate during the summer months. The following courses are offered around Biei in 2010:
Twinkle Bus Biei - Hill Country Course
(500 yen, 50 minutes)
Starts and ends in Biei, visiting the trees and observatory of the Patchwork Road area.
Operates 3-7 times daily from June 5 through August and on weekends in September.
Twinkle Bus Biei - Takushin-kan Course
(500 yen, 90 minutes)
Starts and ends in Biei, visiting the Takushin-kan photo gallery and Shikisai Hill.
Operates 1-3 times daily from June 5 to August 31.


Twinkle Bus Biei - Lavender Course
(1000 yen, 140 minutes)
Leads from Biei to Furano, visiting Lavender East and Furano Winery along the way.
Operates once daily from July 3 to August 15.
Twinkle Bus Furano - Lavender Course
(1000 yen, 160 minutes)
Leads from Furano to Biei, visiting the Cheese Factory and Farm Tomita along the way.
Operates once daily from July 3 to August 15.
Map by Google
大きな地図で見る
By TS on Jun 17, 2011
スポンサーサイト
tag : Hokkaido