Sponsored Link
スポンサーサイト
Toyako Onsen (1) / Hokkaido / Japanese Hot Springs
Introduce "Toyako Onsen" in Hokkaido.
Toyako Onsen is a touristy hot spring resort town along the shore of Lake Toya, just at the foot of Mount Usu.
Toya National Park's Lake Toya is one of Hokkaido's three most impressive landscapes. In 1910, as a result of the volcanic activity of Mt. Yosomi - one of Mt. Usu's parasitic cones, hot springs started to well out of the earth and onsen (hot springs) started to open up for business as far back as 1917.
Every year 3 million visitors come to the area to see and the active volcanoes and visit the activity centres which are set against the backdrop of Mt. Yotei - Hokkaido's very own Mt. Fuji.
The silky smooth spa waters are low in sodium content and beneficial for those suffering from chronic rheumatism and gastrointestinal disorders.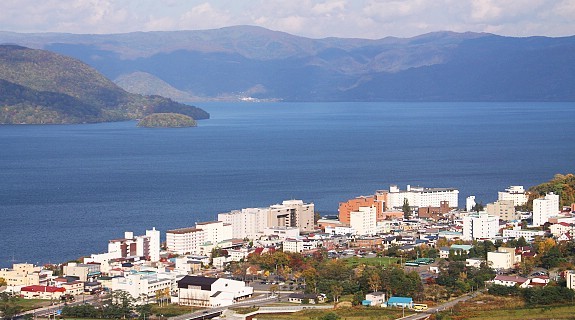 Toya Lake & Hotels view
Several large luxury hotels stand right alongside the lake, offering rooms and hot spring baths with beautiful views of the lake. Visitors who are not guests at the hotels can still use some of the baths during the day for a fee of 500 to 1000 yen.

(One of Toya Hot Springs)
In front of the hotels runs a pleasant promenade with foot baths (ashiyu), and in the evening from May through October there are daily fireworks. The promenade is also the departure point for sightseeing boat cruises of the lake.
View Larger Map
Toyako Onsen is the transportation hub in the Lake Toya region. Many bus routes pass or end here, including the buses to/from JR Toya Station (15 minutes, 320 yen, about one bus per hour) and the buses to/from Sapporo.
By car, Toyako Onsen can be reached in a five minute drive from Abuta-Toyako Interchange on the Doo Expressway.
By T.S. on Feb 15, 2010
スポンサーサイト