Sponsored Link
スポンサーサイト
Noboribetsu (2) / Japanese Hot Springs
In Noboribetsu area, we are able to enjoy "Japanese Hot Spring" and others.
This time introduce other atractions, Lake Shikotsu, Shiraoi Ainu Museum and Lake Toya (Toyako).
Please enjoy!!
Shiraoi Ainu Museum
The Shiraoi Ainu Museum, also called Porotokotan, is one of Hokkaido's better Ainu Museums. Ainu culture and lifestyle is shown in an outdoor reproduction of a small Ainu village and inside a conventional museum building. Several performances, such as traditional Ainu dances, are held throughout the day.
Lake Shikotsu

Lake Shikotsu and Lake Toya are the two most prominent geographical features of Shikotsu-Toya National Park. Both lakes, called Shikotsuko and Toyako in Japanese, are caldera lakes, which were formed from collapses in the earth after volcanic activity.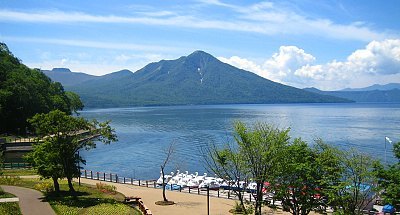 Shikotsu Kohan is a small, touristy town located on the bank of the lake. From there visitors can rent boats, bicycles, or scuba gear to enjoy the natural surroundings. There is a visitor center in the town, and cruises can be arranged for enjoying the area from the water.
Cruises are offered in regular boats, glass bottomed boats and in speed boats. Sightseeing boats do not operate from early November to mid April. During the rest of the year, regular sightseeing boat rides depart every 30 minutes, take 30 minutes and cost 1200 yen.
| | |
| --- | --- |
| The trail up Mt. Tarumae | The trail around Mt Tarumae's summit |
| | |
| --- | --- |
| Enjoying the beach at Lake Shikotsu | Koke no Domon, or Moss Canyon |
Lake Shikotsu is encircled by mountains, one of which is Mount Tarumae. Tarumae is an active volcano from which you can enjoy impressive views of the crater and the surrounding area, including Lake Shikotsu below. The trail to the top is steep, but easy, and it takes less than an hour to ascend. The trailhead and a small parking lot are located 15 km from Shikotsu Kohan.

Koke no Domon, Japanese for "Moss Canyon", is another site of interest in the area. Located 10 km south of Shikotsu Kohan, Koke no Domon is a gulley with a rich variety of plant life lining its walls. There are said to be over twenty types of moss alone. Visitors cannot actually enter the gulley, but there is an observation platform from which it can be viewed.

Lake Toya (Toyako)

Lake Toya (Toyako) is part of the Shikotsu-Toya National Park. In addition to the lake itself, the Toyako region features hot springs and an active volcano, Mount Usu, which last erupted in the year 2000. The area also offers many fishing, hiking, and camping opportunities.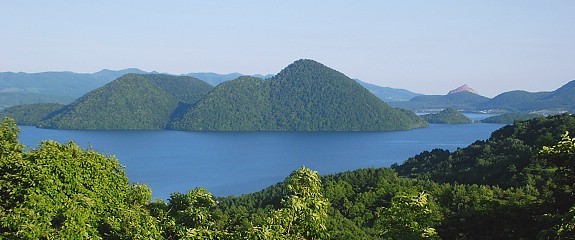 The picturesque lake was chosen as the location of the the G8 summit which Japan hosted from July 7 to 9, 2008. The leaders of the world's eight major industrialized democracies met at the Windsor Hotel Toya Resort & Spa.
By T.S. on Feb 6, 2010
スポンサーサイト