Sponsored Link
スポンサーサイト
Wakakusa Yamayaki on Jan 23, 2010 / Nara / Kansai
Mount Wakakusa (若草山, Wakakusa-yama), also known as Mount Mikasa (三笠山 Mikasa-yama), is an 342 m (1,122 ft) high mountain located in Nara, Nara Prefecture, Japan, beyond to the east from Nara Park.
Mount Wakakusa Fire Festival (Wakakusa-yamayaki) is held on the day before Coming-of-Age Day.
The dry grass on the slopes of this mountain is set on fire.
Recently the festival is held every fourth Saturday in January.
It is a festival of the flame with which the new year of ancient city Nara is decorated.
Many tourists visit there every year.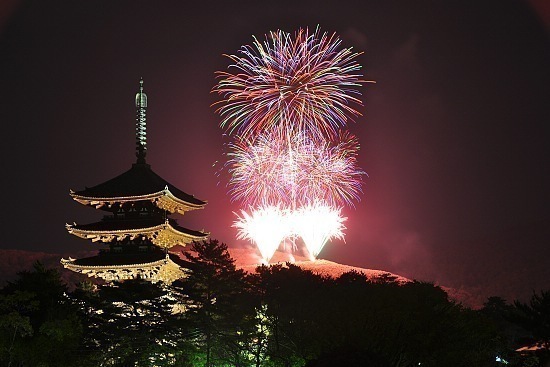 Fireworks above Wakakusayama and the five story pagoda of Kofukuji Temple
There was a variety of minor events that preceded the burning of the hillside, starting from about noon. One of the most fun was a contest for throwing an extra large
sembei
cracker, which tourists will recognize as the deer food sold throughout Nara Park. The event seemed quite popular, as there was a long line of people eager to pay the 300 yen fee to participate. There was also a stage with some local dancers and other shows.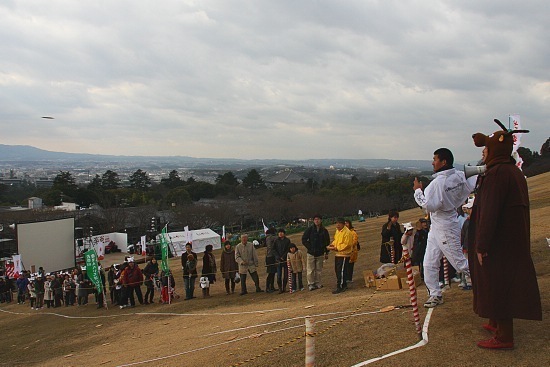 The sembei throwing contest at Wakakusayama, with a contestant and his cracker mid-flight
The burning ceremony began just before 5 o'clock, but there was no fire on the mountain until about 6 o'clock. The hour in between consisted of a procession from the Silk Road Exchange Hall in Nara Park to the mountain, with a couple of stops for performing rituals along the way. During the procession I was reminded of my visit to the Omizutori Festival last year, as both events had an interesting combination of Shinto ritual and burning torches. By the time the fire arrived at the mountain thousands of spectators had gathered, and a few hundred had walked along with the procession.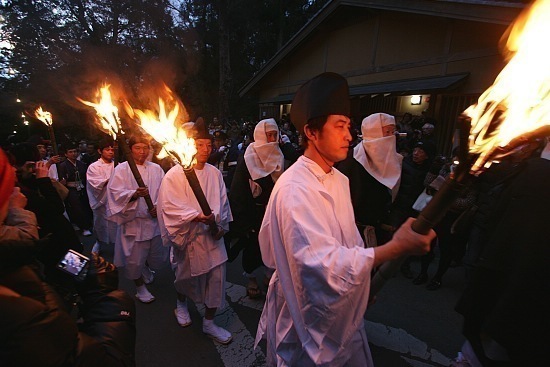 Torches are taken in a procession to Wakukusayama Mountain
At about 6pm a large fire was made just below the thick grass. But before the entire mountain was set on fire, an entertaining 15 minute fireworks show was held.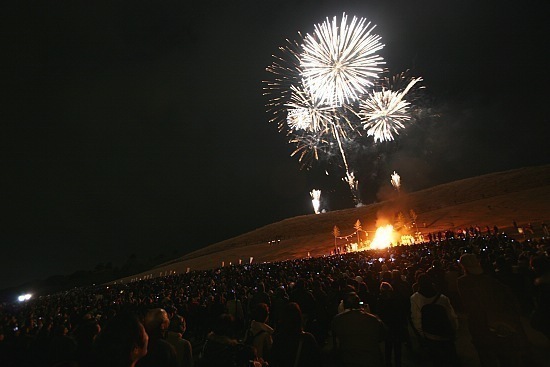 Fireworks above Wakakusayama from up close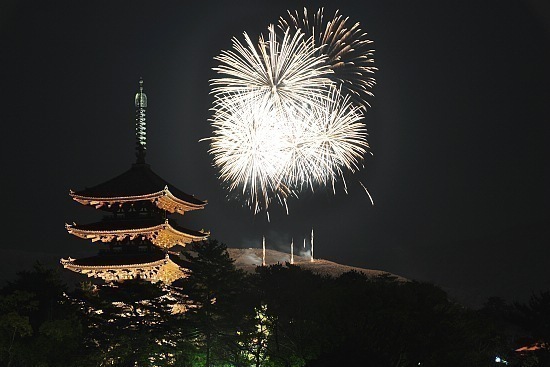 Fireworks above Wakakusayama and the five story pagoda of Kofukuji Temple
When the fireworks were finished, a line of people walked out to the edge of the thick grass and at the same time set the mountainside ablaze. The fireworks were very impressive, but I had a unique feeling seeing the glowing red mountain.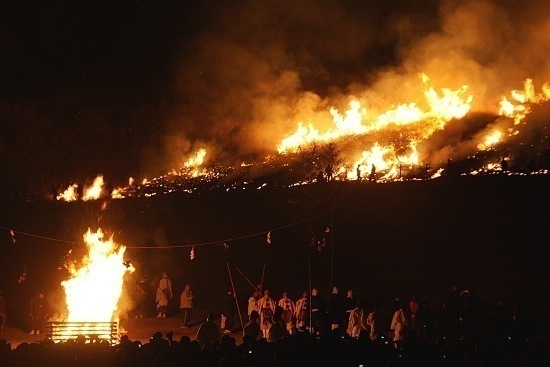 The view of Wakakusayama being set on fire from up close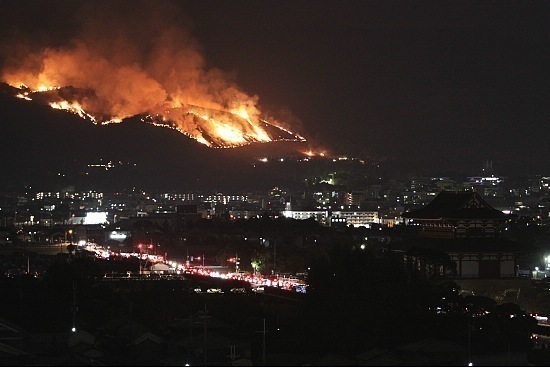 The burning hillside of Wakakusayama and the Imperial Audience Hall of Heijo Palace
By T.S. on Jan 30, 2010
スポンサーサイト