Sponsored Link
スポンサーサイト
Kinugawa Onsen (1) / Japanese Hot Spring
Introduce Kinugawa Onsen located in Kanto district.
Kinugawa Onsen is a popular hot spring resort town along the Kinugawa River in Tochigi Prefecture.
The town is centered around the large hotel ryokan lining the riverbank, and offers many amusements such as the Tobu World Square and Nikko Edomura theme parks in addition to its hot spring baths.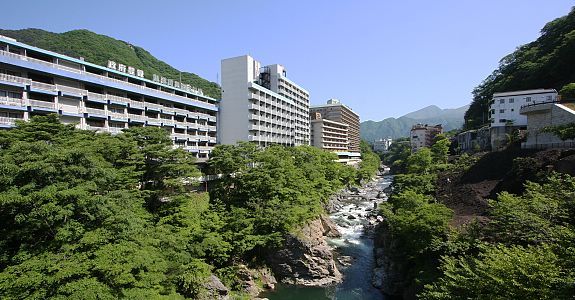 Kinugawa was extensively developed in past decades, when many of the large ryokan complexes were built.
Several of these have gone out of business over the years, leaving behind abandoned buildings on the riverbank.
In response, the town has stepped up efforts in recent years to beautify the riverfront by removing some of the abandoned buildings while adding nature trails, parks and footbaths.
Kinugawa Onsen is close to Nikko, and is included in the free travel zone of many of the Tobu rail passes to the area. The town is a good place to overnight when visiting Nikko and can add a little fun and relaxation to complement the culture and nature of Nikko.
The attractions around Kinugawa Onsen is as follows.
1. Tobu World Square
2. Nikko Edomura
3. Grand Maze
4. Hot Springs
5. River Cruise
And also we are able to enjoy Nikko Toshogu.
By T.S. on Jan 20, 2010
スポンサーサイト