Sponsored Link
スポンサーサイト
Ikaho Onsen (2) / Japanese Hot Spring
Regarding Ikaho Onsen, introduce other Sightseeing Spot.
One is "Mizusawa Temple".
The temple founded over 1000 years ago, plays an important religious role as one of the 33 sites of the Kanto Kannon Pilgrimage.
It hosts a variety of religious buildings, which are all well maintained.
The temple is situated on the mountain side, affording a nice view from many points.
The temple is devoted to Kannon, the goddess of compassion in Japanese Buddhism.
An 11-faced, thousand-handed statue of the deity is the temple's main object of worship, and is never displayed publicly.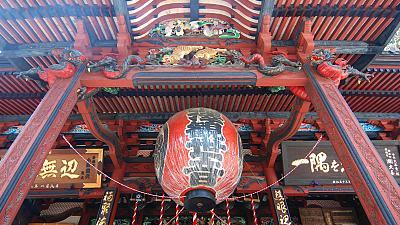 On the temple grounds, there are many interesting ceremonial procedures in which visitors can take part, such as purchasing fortunes, burning incense, or striking a giant bell.
A particular rarity is a rotating two-storied hexagonal pagoda, which visitors can turn three times for good luck.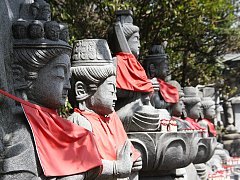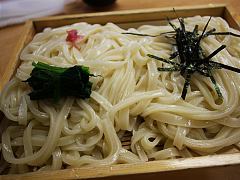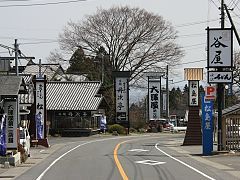 Another of Mizusawa's principal attractions is not actually at the temple itself, rather it is served at the restaurants that line the road to get there. Along with Kagawa's Sanuki noodles and Akita's Inaniwa noodles, Mizusawa's udon noodles are recognized as one of the three most famous types of udon noodles in Japan.
Ikaho's main attraction, besides its uniquely colored baths, is the stone steps (ishidan gai) which progress upwards through the center of this mountain town for about 300 meters. The steps have been reconstructed in recent years, but original examples of the stone work are still visible near Ishidan no yu, a public bath.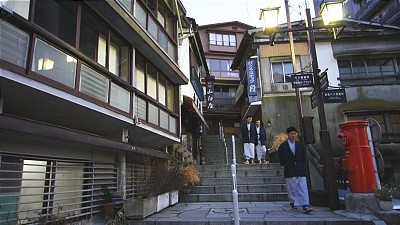 As the center of town, the stone steps are the main thoroughfare for visitors seeking restaurants, ryokan, gifts (omiyage), or arcade game shops. These shops offer old arcade style games with various prizes for about 300 to 500 yen. Games such as ring toss, or "target shooting" are popular examples.
| | |
| --- | --- |
| Ikaho Shrine | Ikaho's stone steps (ishidan gai) |
| | |
| --- | --- |
| Arcade game shop | Kajika Bridge |
Past the top of the steps and towards the public outdoor bath is Kajika Bridge, offering an impressive view of the leaves in autumn. Here, the deep brown colored hot spring water is also visible as it flows under the bridge. The iron rich water can be tasted at a small drinking fountain on the side of the road.
Mount Haruna, or Harunasan, is also Sightseeing Spot.
Mount Haruna is one of the three most famous mountains of Gunma Prefecture, and can be seen prominently in the sky from dozens of miles away. The town of Ikaho is built along its eastern slopes.


At the center of Harunasan is a asymmetrically coned projection which is called Haruna Fuji, due to its resemblance to Mount Fuji.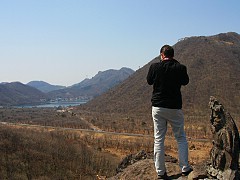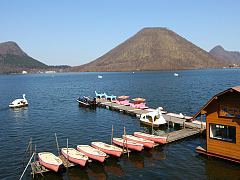 A ropeway has been installed on Haruna Fuji that allows visitors to travel easily to its peak, from which one can look out onto the surrounding landscape. Many trails have been made around the area, which are sometimes designed to guide visitors through particular regional flora.
Ikaho Museums and Parks is also Sightseeing spot.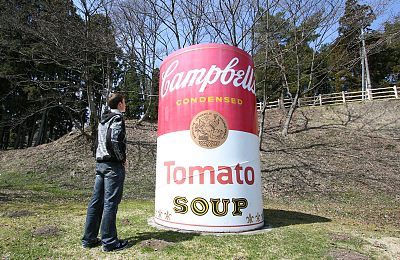 Warhol in Rural Japan
Most visitors will undoubtedly come to Ikaho for its famous onsen, but Ikaho hosts some interesting parks and museums that tourists might also enjoy.
| | |
| --- | --- |
| Outside the ARC Museum | Ikaho's Sistine Chapel |
Ikaho Sistina is an interactive museum of op-art, or trick-art as it is called in Japan. It is designed specifically for fun photo opportunities. It also has a monkey theater and, like its name suggests, a replica of the Sistine Chapel.
| | |
| --- | --- |
| Horseback Riding at Bokujo | Bokujo's Western Themed Area |
An annex to Tokyo's Hara Museum, Hara Museum ARC focuses on the same type of contemporary art. In addition to its indoor exhibition space, ARC's location in the spacious countryside allows it to place permanent pieces throughout its natural landscape. One such example is a giant version of Andy Warhol's iconic Campbell's soup can, which stands curiously amongst the trees.
By T.S. on Jan 18, 2010
スポンサーサイト