Sponsored Link
スポンサーサイト
Hakone Hot Springs / Hot Springs in Japan

Mt. Fuji with Snow can be seen as background
Hakone is part of the Fuji-Hakone-Izu National Park, less than 100 kilometers from Tokyo.
Famous for hot springs, outdoor activities, natural beauty and the view of nearby Mt. Fuji, Hakone is one of the most popular destinations among Japanese and international tourists looking for a break from Tokyo.
Hakone has been one of Japan's most popular hot spring resorts for centuries. Nowadays, more than a dozen springs provide hot spring water to the many bath houses and ryokan in the Hakone region.
Yumoto, at the entrance to the Hakone area near Odawara, is Hakone's most famous hot spring with a particularly long history, high quality water and numerous baths and inns. In addition, many more hot spring facilities can be found throughout the mountains of Hakone as well as along the shores of Lake Ashi.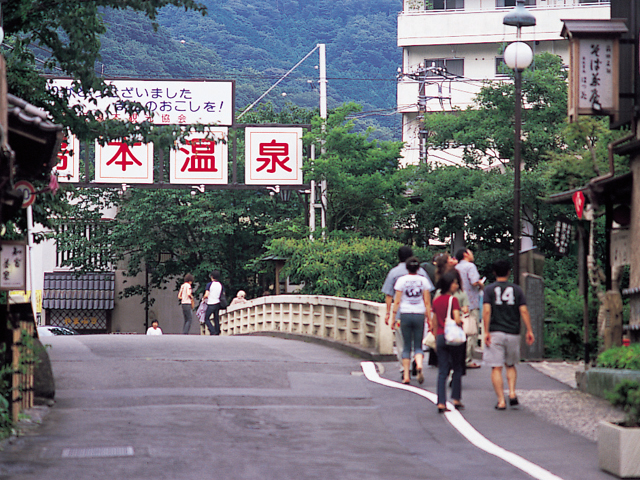 Hakone Yumoto
Visitors can enjoy a hot spring bath in a public bath house or ryokan, and many ryokan open their baths not only to staying guests but also to daytime visitors. While staying guests can use the baths for free, daytime visitors pay an admission fee of typically between 500 and 2000 yen.
Hakone Map
Yumoto:
Tenzan
A short walk from Oku-Yumoto Iriguchi bus stop
Hours: daily 9:00 to 23:00 (admission until 22:00)
Closed: No closing days
Admission: 1200 yen
Collection of nicely done hot spring pools, most of which are outdoors at the foot of a wooded slope. The bath house is a beautiful traditional Japanese style building.
Hakone Kamon
Free shuttle bus to/from Hakone Yumoto Station
Hours: daily 10:00 to 21:00
Closed: No closing days
Admission: 1940 yen
Multiple outdoor baths made of stone and wood including sauna and baths made of large ceramic pots. A cup of tea is served after the bath.
Yu No Sato Okada
10 minute hotel shuttle bus ride from Yumoto Station (100 yen)
Hours: daily 11:00 to 23:00 (admission until 22:00)
Closed: No closing days
Admission: 1600 yen on weekdays, 1800 yen on weekends/holidays
Various pools, most of which are outdoors. Nice views of the valley can be enjoyed from the bath house, but unfortunately not from the pools.
Kappa Tengoku
Less than 5 minutes on foot, just behind Hakone-Yumoto Station
Hours: daily 10:00 to 22:00
Closed: No closing days
Admission: 750 yen
Outdoor baths in the wooded slope just above Yumoto Station. The wooden bath house is slightly run-down but remains atmospheric.
Miyanoshita:
Rakuyujurin Shizenkan
5 min walk from Hotelmae bus stop/10 min walk from Miyanoshita Sta
Hours: daily 10:00 to 19:00
Closed: Wednesdays
Admission: 2500 yen
Attractively located on the densely wooded, steep slope of the valley with outdoor baths on wooden terraces. This bath house is old and atmospheric, if overpriced.
Kowakudani:
Hotel Kowakien Yunessun
At Kowakien bus stop (20 mins, 560 yen from Yumoto Station).
Hours: Yunessun: daily 9:00 to 19:00 (until 18:00 Nov to Feb)
Mori no Yu: daily 9:00 to 21:00
Admission: 3500 yen (Yunessun), 1800 yen (Mori no Yu), 4000 yen (combined)
More water park than hot spring, this resort is split into two areas: "Yunessun" with themed pools and water attractions (bathing suits required), and "Mori No Yu" with traditional hot spring baths (no bathing suits).
Sengoku:
Hakone Green Plaza Hotel
3 minute walk from Hakone Ropeway's Ubako Station
Hours: daily 12:00 to 15:00
Closed: alternating Thursdays
Admission: 1600 yen
This hotel's large rotemburo (outdoor baths) are some of the suprisingly few baths in Hakone that have views of Mount Fuji on clear days.
By TS on Sep 29, 2011
スポンサーサイト
tag : Onsen, Cool_Japan