Sponsored Link
スポンサーサイト
The Native Place Tour of The Tale of Genji / Vol. 30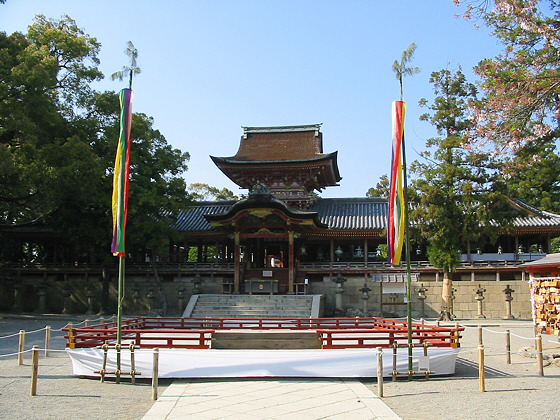 (The main shrine and inner courtyard of the Iwashimizu Hachimangu shrine.)
This time introduce Iwashimizu Hachiman-gu Shrine.
Iwashimizu Hachiman-gu Shrine is on Mount Otoko at Yawata-shi, about 20 minutes by train southwest of Kyoto.
The shrine is dedicated to three spirits: Emperor Ojin, the legendary Empress Jingu and the deity Hime no Okami.
It is said that the shrine was founded in 859 when the Buddhist monk Gyokyo asked that the god of Usa Hachimangu Shrine in Kyushu descend according to the god's oracle. The temple was greatly venerated by the court and imperial family as a shrine to guard the country.
A temporary festival took place after the rebellion by Taira no Masakado and Fujiwara Sumitomo and became popular as an annual court festival in southern Kyoto along with the royal festival held in Kamo in northern Kyoto.
In The Jeweled Chaplet chapter of
The Tale of Genji
, Lady Tamakazura is sent to the shrine to pray for assistance.
Iwashimizu Hachiman-gu was the tutelary shrine of the Minamoto (Genji) clan, to which Genji belonged. Hachiman was the Shinto god of war and god of archery.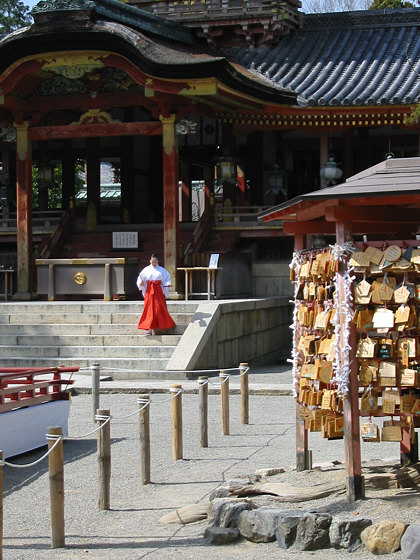 (Shrine maiden at Iwashimizu Hachimangu.)
The author of
The Confessions of Lady Nijo
also belonged to the Minamoto clan. In 1273, she visited the shrine to pray for her father's soul, and in 1291 - by then a nun - she visited again and ran into her former lover, Retired Emperor Go-Fukakusa.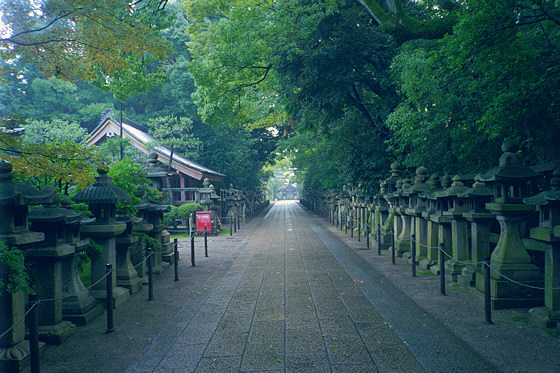 (Stone lanterns line the approach to the tutelary shrine of the Minamoto (Genji) clan.)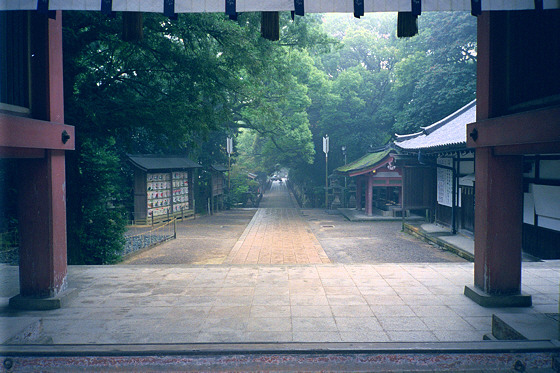 (Two arrows stand beside this path to the shrine of the God of War.)
By TS on Nov 17, 2011
スポンサーサイト
tag : Genji, Cool_Japan