Sponsored Link
スポンサーサイト
The Native Place Tour of The Tale of Genji / Vol. 26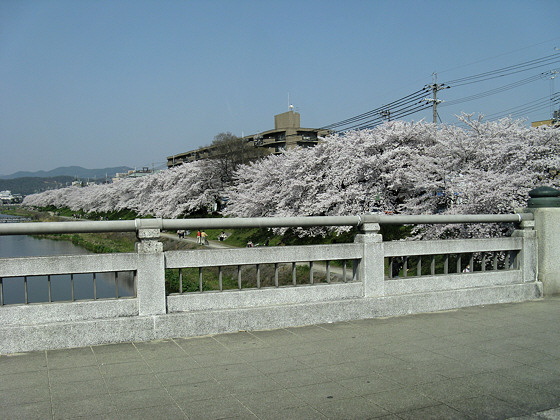 (Cherry blossom beside the Kamo River.)
Introduce The Kamo River.
The Kamo River is a river in Kyoto, Japan. Called Kamo-gawa in Japanese, it is approximately 23 km long and covers a land area of approximately 20.7 square kilometers.
The riverbanks are popular walks for residents and tourists. In summer, restaurants open balconies looking out to the river.
In ancient times, the Kamo River marked the eastern limit of Kyoto city. Beyond it lay the Toribeno cremation grounds and the Eastern Hills.
Today the river is a nice place for a stroll, particularly during the cherry-blossom season.
There are pathways on which one can walk along the river.
The water level of the river is usually relatively low; less than one meter in most places.
During the rainy season, however, the pathways sometimes flood in their lower stretches.
(Cherry blossom in 2009)
The Kamo River has its source in the mountains in the area of Mount Sajikigatake, around the boundary of Kumogahata village and Keihoku village in the northern ward of Kyoto City.
Flowing into the Kyoto Basin from the city area called Kamigamo in the same northern ward of the city, from there it bends south-east and, around the spot known as Demachi in the Kamigyō or "Upper Kyoto" ward, joins with the Takano River which flows down from the northeastern direction, and there changes direction to due south through Kyoto City's Nakagyō (Central) ward.

(Noryo-Yuka of Kamo River in Summer Season)
In the vicinity of the Shijō Bridge at Shijō Street in the center of downtown Kyoto, the Shirakawa River joins with it. At its southern part, the Horikawa River and West Takase River join with it, and at Shimomukōjima-cho in the Shimotoba part of Fushimi Ward of Kyoto City, it joins with the Katsura River, to become a tributary of the Yodo River.

(Enjoying a stroll)


(Kamo River in Ukiyoe / Edo Era)
By TS on Nov 10, 2011
スポンサーサイト
tag : Genji, Cool_Japan