Sponsored Link
スポンサーサイト
The Native Place Tour of The Tale of Genji / Vol. 25

(Kamo River in summer time)
This time introduce Kamo River (Kamogawa).
The
Kamo River
is a river in Kyoto, Japan. Called Kamo-
gawa
in Japanese, it is approximately 23 km long and covers a land area of approximately 20.7 square kilometers.
The riverbanks are popular walks for residents and tourists.
In summer, restaurants open balconies looking out to the river.
There are pathways on which one can walk along the river.
The water level of the river is usually relatively low; less than one meter in most places.
During the rainy season, however, the pathways sometimes flood in their lower stretches.

(Kamo River and Kyoto City Center)


(Noryo-Yuka Terrace above the west bank of Kamogawa River from Nijo to Gojo)
In ancient times, the Kamo River marked the eastern limit of Kyoto city. Beyond it lay the Toribeno cremation grounds and the Eastern Hills.
Today the river is a nice place for a stroll, particularly during the cherry-blossom season.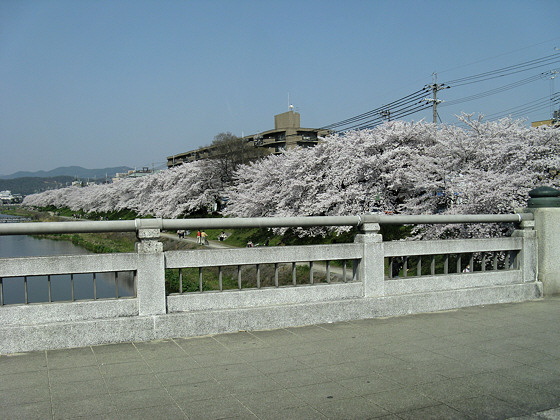 (Cherry blossom beside the Kamo River.)
By TS on Nov, 9, 2011
スポンサーサイト
tag : Genji, Cool_Japan