Sponsored Link
スポンサーサイト
The Native Place Tour of The Tale of Genji / Vol. 12

(The Shishinden of the present-day Kyoto Imperial Palace, built according to Heian period models)
This time taking up herewith "The Heian Imperial Palace in Kyoto".
The Heian Imperial Palace in Kyoto
The Palace, like many of the oldest and most important buildings in
Japan,
was destroyed by fire and rebuilt many times over the course of its history.
Since it was first built in 794, it has been destroyed and rebuilt eight times, six of them during the 250-year-long peace of the Edo Period.
The version currently standing was completed in 1855, the Heian Period architecture and style reproduced perfectly.
The original Heian-era imperial residence was built when the capital was moved from Nagaoka in 794. It was situated in the area occupied by Nijo Castle today, but was moved to its current location in 1331 after a series of disasters damaged its buildings.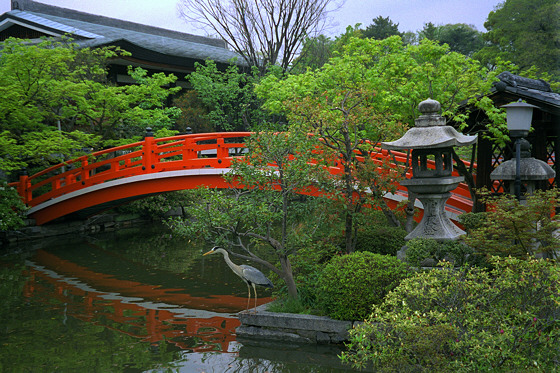 (A heron peers into the pond at Shinsen-en.)
All that is left of the original imperial palace grounds now is the pond and small garden at Shinsen'en, just south of Nijo Castle. However, just across the Kamo River lies the magnificent Heian Jingu, a late 19th Century replica of the Heian imperial palace.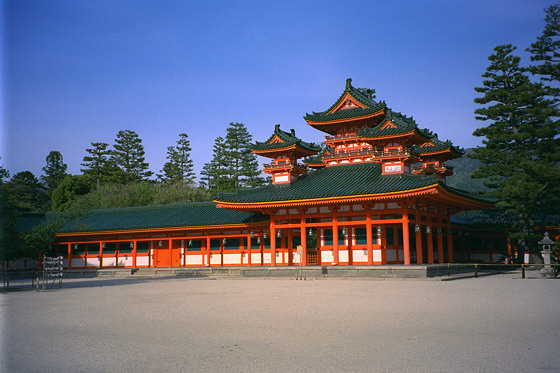 (The East wing of Heian Jingu.)
Much of the movie Onmyoji was filmed at Heian Jingu.
Onmyoji (陰陽師) is a Japanese movie that was released in 2001 and sent to the US in 2004. Directed by Yōjirō Takita, it tells of the exploits of Abe no Seimei, the Onmyoji (also known as:
The Yin Yang Master
) from the court of the Emperor. He was befriended by bungling court noble Minamoto no Hiromasa, who enlists his aid to defend the Heian emperor. Meanwhile, the onmyoji Doson is plotting the downfall of the emperor, attempting to frame Seimei in the process while unleashing a horde of yōkai to do his bidding.
There are some modern depictions of Onmyoji magic involving divination, transforming paper cutouts into beautiful maidens, and the like. Mansai Nomura is a famous kyogen actor, a type of traditional theater related to noh but of a more comic nature, and this role is considered something of a big transition for him. His portrayal of Abe no Seimei has been described as including a number of 'foxy' looks, perhaps in acknowledging the folklore describing Abe no Seimei's mother as a kitsune. The lead actress, Eriko Imai, a pop singer, has very few lines and little involvement with the plot.
A sequel,
Onmyoji II
, appeared in 2003. Both movies are based on the Onmyouji novels by Baku Yumemakura, which also inspired a manga series by Reiko Okano.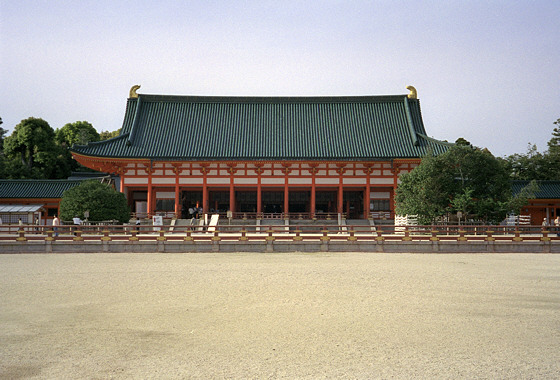 (The north section of Heian Jingu.)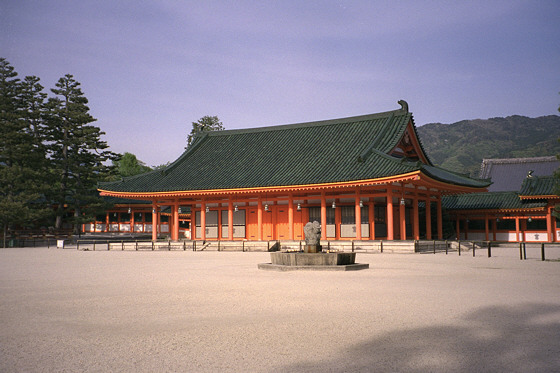 (Heian Jingu.)
By T.S. on Aug 28, 2011
スポンサーサイト