Sponsored Link
スポンサーサイト
Japan celebrates Ichiro's record
Congratulations!!! Mr. Ichiro Suzuki.
I'm so glad his reaching 200 hits for 9 straight season on Sep 13, 2009 as one of the Japanese.
Almost all of the Japanese are also the same, I suppose.
Taking up herewith some News Articles and Photos regarding Ichiro.
======
QUOTE
======
(At the time of 2000 hits in 2009 year.)
(At the time of 200 hits of 2009 year.)
Japan celebrates Ichiro's record

Sep 14, 2009 by MLB.com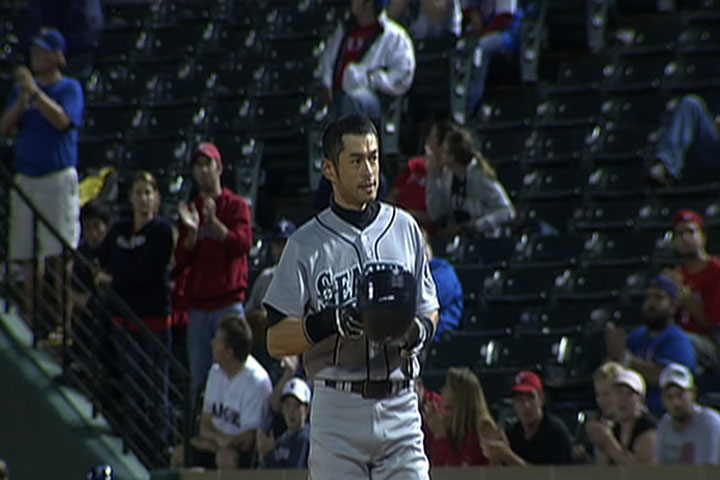 Ichiro Suzuki's latest record-setting moment stirred up a new wave of national pride in his native country, as Japanese peers and fans alike saluted the baseball icon of two hemispheres.
From home run king Sadaharu Oh to office workers, people in Tokyo were stirred up by Suzuki claiming a ninth consecutive season with 200 hits, breaking the 108-year-old record he had shared with Willie Keeler on Sunday. ...
Ichiro Suzuki sets record
Sep 14, 2009 by
Los Angeles Times


Ichiro Suzuki became the first major league player with at least 200 hits in nine consecutive seasons, Felix Hernandez (15-5) gave up four hits in seven innings and the Mariners earned a split of a doubleheader. Rookie Tommy Hunter (8-3) threw a six-hitter for the Rangers in the first game.
...
Ichiro Suzuki reaches 200 hits for 9th straight season
Sep 14, 2009 by
Boston Herald


(Mariners' Ichiro Suzuki waves to the crowd after getting his 200th hit of the season, in the second game of a baseball doubleheader against the Texas Rangers on Sunday. )



A

RLINGTON, Texas — The one thing Ichiro and the guy whose record he just toppled had in common was proving that size didn't matter.
Wee Willie Keeler stood somewhere between 5-foot-4 and 5-foot-7 and weighed a scant 140 pounds when racking up hits at the turn of the last century. Ichiro checks in at 5-foot-11 and roughly 170 pounds if you throw in his batting helmet and spikes, a relative Keeler prototype in this era of enhanced weight training by his peers.
They both used some of the smallest bats in the game and the size of their hits was equally diminutive, measured not in feet, but in cumulative totals stacked up over time. It seemed somewhat fitting then that the Mariners leadoff man would set a record with his 200th hit, in the second inning of a 5-0 win Sunday night over the Texas Rangers, on a ball that didn't leave the infield.

Suzuki sets mark with 9th straight 200-hit season
Sep 14, 2009 by
The Associated Press
ARLINGTON, Texas — Ichiro Suzuki has become the first player in major league history with at least 200 hits in nine straight seasons.
The Seattle Mariners' right fielder set the mark with an infield single in the second inning of the nightcap of doubleheader against the Texas Rangers. In his second at-bat of the game, Suzuki beat out a slow roller to shortstop Elvis Andrus to break a tie with Willie Keeler, who did it for eight consecutive seasons (1894-1901).
=========
UNQUOTE
=========
By T.S. on Sep 15, 2009
スポンサーサイト