Sponsored Link
スポンサーサイト
The Tale of Genji (Genji Monogatari) Anime Vol 3

(Murasaki Shikibu, illustration by Tosa Mitsuoki(17th century))
Murasaki Shikibu (紫式部; c. 973–c. 1014 or 1025), or Lady Murasaki as she is often known in English, was a Japanese novelist, poet, and a maid of honor of the imperial court during the Heian period.
As you might know, she is best known as the author of The Tale of
Genji
, written in Japanese between about 1000 and 1008, one of the earliest novels in human history.
"Murasaki Shikibu" was not her real name, which is unknown.
Some scholars have postulated that her given name might have been Fujiwara Takako, recorded as a name of a lady-in-waiting ranked shōji on the 29th day of the 1st month, Kankō 4 (February 19, 1007) according to Midō Kampaku Ki, a diary written by Fujiwara no Michinaga, although this theory has not been supported by many others.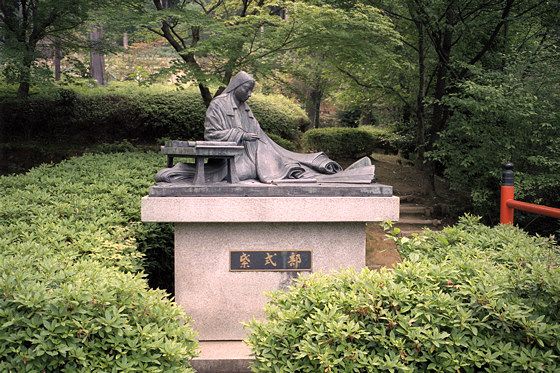 (Statue of Murasaki Shikibu, author of The Tale of Genji, on the hillside at Ishiyama-dera.)
Her own diary, The Murasaki Shikibu Diary, states that she was nicknamed "Murasaki" ("purple wisteria blossom") at court, after a character in The Tale of
Genji
. "Shikibu" refers to her father's position in the Bureau of Ceremony (shikibu-shō).
Please enjoy four YouTube Videos, the numbers are 8, 9, 10 and 11. 
The Tale of Genji 8 / Genji Monogatari 8
The Tale of Genji 9 / Genji Monogatari 9
The Tale of Genji 10 / Genji Monogatari 10
The Tale of Genji 11 / Genji Monogatari 11
By TS on Aug 8, 2011
スポンサーサイト