Sponsored Link
スポンサーサイト
Kyoto Tour Vol. 13
COOL JAPANESE SCENE / Kansai & Kyoto (49) / Kansai & Kyoto (51)

This time pick up herewith Kyoto Travel Spot which is located in Northern Part of Kyoto.
Introduce Kitano Tenmangu which being popular shrine hosting a monthly flee market, and Kamo Shrines which being one of two of Kyoto's most important shrines.
Kitano Tenmangu
/ Popular shrine hosting a monthly flee market.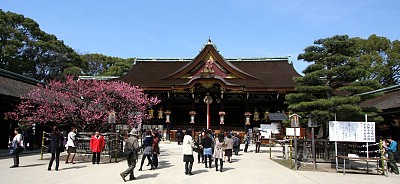 Kitano Tenmangu Shrine is one of several hundred Tenmangu Shrines across Japan. They are dedicated to Sugawara Michizane, a scholar and politician who was unfairly exiled by his political rivals. A number of disasters were attributed to his vengeful spirit after his death in exile, and these shrines were built to appease him.
Sugawara Michizane is associated with
Tenjin
, the kami ("Shinto god") of education, and many students come to Kitano Tenmangu to pray for success in their studies. The shrine can become especially crowded with students during exam times and school trip seasons.
Michizane loved plum trees and one tree called
tobiume
, or flying plum tree, is said to have followed him from Kyoto to his exile in Kyushu. Because of this, a plum tree can always be found in front of a Tenmangu Shrine's main building.
Kitano Tenmangu has beautiful plum blossom viewing, especially in a grove of nearly 2000 trees that bloom from February to March. The shrine hosts a special tea ceremony, called
Baikasai
, in this plum grove every February 25th. The ceremony is performed by maiko and geiko of the nearby Kamishichiken geisha district.
Last but not least, the shrine holds a flea market on the 25th of every month. The shrine grounds and surrounding streets are taken over by hundreds of vendors selling plants, antiques, tools, toys and crafts. There is also a large food section selling festival food such as yakisoba, karaage and takoyaki.
Kamo Shrines / Two of Kyoto's most important shrines.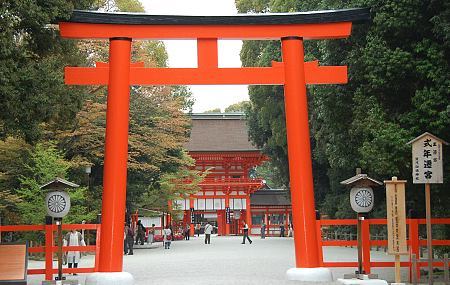 (A Gate at Shimogamo Shrine)

The Kamo Shrines, Shimogamo Shrine and Kamigamo Shrine, are both recognized as UNESCO World Heritage Sites. They are two of the most important shrines in Kyoto.
Two of the oldest shrines in Japan, the Kamo Shrines predate the city's establishment as national capital in 794. Throughout the thousand years that Kyoto served as Japan's capital city, the Imperial Court patronized the shrines as establishments dedicated to the city's protection and prosperity.
Shimogamo Shrine, also known as Kamomioya Shrine, is located at the junction of the Takano and Kamo rivers. It is surrounded by the Tadasu no Mori, a forest which was preserved during the modernization of the city. The forest has trees that are up to 600 years old, which are considered sacred by the priests of the shrine.


| | |
| --- | --- |
| Kamigamo's Sand Cones | Inside Kamigamo Shrine |
About three and a half kilometers upriver of Shimogamo is Kamigamo Shrine, which is officially named Kamowakeikazuchi Shrine. Kamigamo is well known for the two sand cones that can be seen at its entrance. They serve a purification function for the shrine, and have been made ritually since ancient times.
| | |
| --- | --- |
| Inside Shimogamo Shrine | Tadasu no Mori |
The Kamo Shrines jointly hold one of Kyoto's three biggest festivals, the Aoi Matsuri. Every May 15th at 10:30am, a large procession dressed in the style of the Heian court leaves from the Imperial Palace, continues to Shimogamo, and ends the day at Kamigamo. Both shrines also host other smaller festivals throughout the year.
By T.S. on Jul 16, 2009
スポンサーサイト