Sponsored Link
スポンサーサイト
Cool Japan Guide / Japan's Famous Hot Springs Hokkaido - Tohoku
Hokkaido - Jozankei-onsen Hot Spring
Address: Jozankei-onsen, Minami-ku, Sapporo, Hokkaido
Directions: 1h10min ride by Jotetsu Bus (Jozankei Line) from JR Sapporo Station to Jozankei.

(Jozankei Onsen / 定山渓温泉)
Jozankei-onsen is a hot spring village found in a green valley, located in Shikotsu-Toya National Park. ... There, you can enjoy forest bathing and a stroll on the promenade along the Toyohira-gawa River, which has hot water springing from its bottom, to the suspension bridge of Futami-koen Park and Kappa-fuchi Abyss known for the story of a legendary creature, kappa. Its Na-Cl Spring, which contains clear and colorless water of a mild salty taste, is one of the most popular qualities of any of the hot springs in Japan.
Full Story to be checked via Link:
http://www.jnto.go.jp/eng/attractions/rest/onsen/onsen_p1.html
Hokkaido - Jozankei-onsen Map
View Larger Map
Hokkaido - Noboribetsu-onsen Hot Spring
Address: Noboribetsu-onsen-cho, Noboribetsu, Hokkaido Directions: 13 min ride by bus for Noboribetsu-onsen from JR Noboribetsu Station (Muroran Line) to the final bus stop, Noboribetsu-onsen.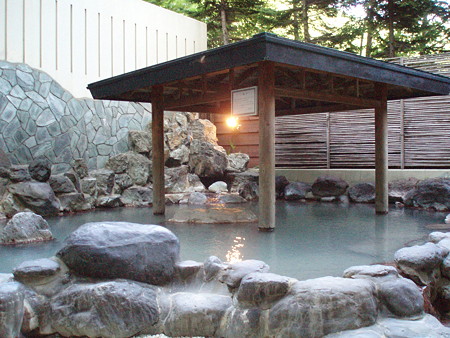 (Hokkaido - Noboribetsu-onsen)
Noboribetsu-onsen attracts people by its various springs incorporating nine different qualities, including the sulfur spring (the most popular one among all) as well as a ferruginous spring and an alum spring which makes the skin beautiful. This much variety is hard to find in hot springs anywhere else in the world. The water volume of the natural discharge is 10,000 t per day, while the water temperature ranges between 45°C and 90°C. Jigoku-dani Valley, designated as one of Hokkaido's heritage sites, is a few minutes' walk from the hot spring area. There, you can experience the dynamics of jigoku, or "Hell," named as such for its strong smell of sulfur while hot water, vapors and volcanic gas escape from the crater, formed approximately ten thousand years ago.
Full Story to be checked via Link:
http://www.jnto.go.jp/eng/attractions/rest/onsen/onsen_p1.html
Hokkaido - Noboribetsu-onsen Map
View Larger Map
By TS on Aug 14, 2012
スポンサーサイト
tag : Cool_Japan