Sponsored Link
スポンサーサイト
Cool Japan Guide / One-day trip / Kobe
Visiting the exotic streets of the port town of Kobe, a base for international exchange, and a shrine with a 1800 year history.

(Kobe Night Scenery)


Traveling: San-no-miya > (5 minutes by Kobe City Subway, 200 yen) > Shin-Kobe > (Ropeway/10-minute walk) > Nunobiki Herb Park > Shin-Kobe > Kitano Ijinkan Hall > (10-minute walk) > TOR Road > Ikuta-jinja Shrine (5-minute walk) > San-no-miya Station > (10-minute walk) > Kobe City Museum > Meriken Park

You might find it convenient to have a 'Kobe Sightseeing 1-Day Coupon' (2,000 yen), which includes a ticket allowing you to take any train or bus in the Kobe area except on the JR lines and a coupon for use at tourist facilities. It can be purchased at private railway stations. There are also several volunteer groups offering a free interpreter service (Kobe Voluntary Good Will Guides, Kobe SGG Club, Kobe Student Guide), which you might find very helpful.
Nunobiki Herb Park

(Nunobiki Herb Park)
Take a bus to Shin-Kobe Station from San-no-miya Station on the Hankyu line/Hanshin line. Head to 'Nunobiki Herb Park' on the Shin-Kobe Ropeway (return ticket 1,000 yen). You'll have a terrific view of the port and city of Kobe from the ropeway.
About 90 different kinds of herbs are planted in Herb Park, and there is also a cafe where you can enjoy herbal tea, a restaurant serving herbal dishes and a shop with herbal products.
After the sun goes down, there's a wonderful night view of the city
Kitano Area
Go down the mountain to visit the Kitano area where the homes of early foreign settlers still exist. You could walk, but the Kobe City Loop Bus will get you there within only a couple of minutes from the ropeway station.

(Kitano Area)
Eventually, the period in which Japan broke off all diplomatic relations with foreign countries ended and they once again started free trade with the world. When Kobe Port opened in 1868, residences for foreigners became necessary. So, by the end of the 19th century, about 200 houses had been constructed on the hill. Most of them were damaged in the Kobe Earthquake of 1995, but repairs were made and about 60 homes remain, forming a unique scene for the area. Weathercock House, which was the residence of a German trade merchant, Rhine House and Yellow-Green House are open to the public.
TOR Road
The slope running down towards the port is called TOR Road. There are several theories about the origin of the name, with the dominant one being that the name came from the 'Tor Hotel' opened under joint investment from England, Germany, America and France on the site of the current Kobe Club in 1908. The Tor Hotel was furnished with the very latest facilities and was a well-known landmark, thus the road to Tor Hotel was called TOR Road.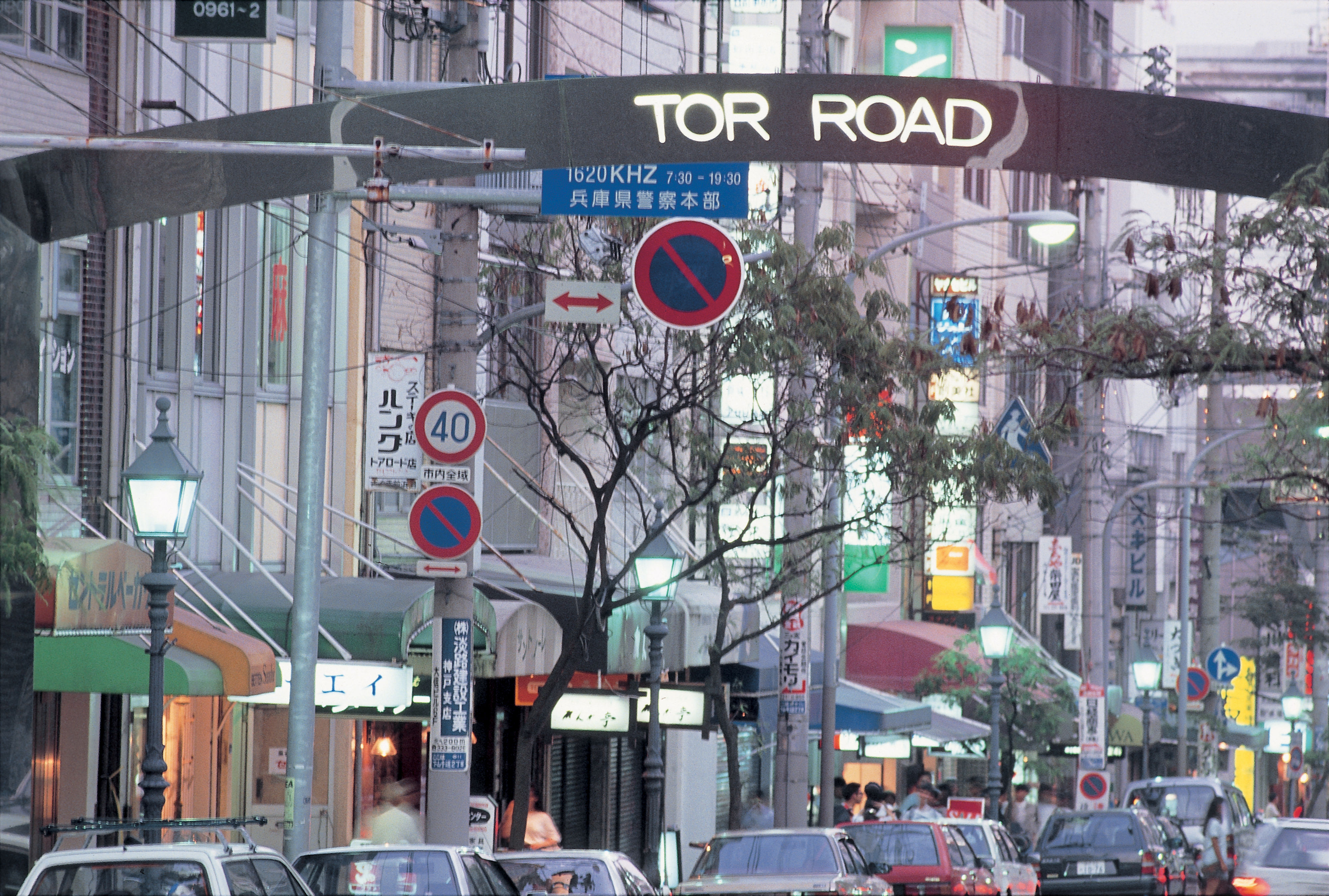 (Tor Road)
Foreigners who used to live in Ijinkan (residences of early foreign settlers) commuted this road between their home and workplace. Now, there are Western-style restaurants, delicatessens and so on, proving that Kobe has always incorporated new cultures from foreign countries.
Ikuta-jinja Shrine

(Ikuta-jinja Shrine)
Turning left off TOR Road, you'll see the Ikuta-jinja Shrine, the guardian of Kobe. The Ikuta-jinja Shrine was founded in 201 A.D. The current entire area of Chuo-ku in Kobe City used to be an area for shrines, so it is believed that the city was named Kobe from 'Kanbe', which means place of God. ...
Kobe City Museum

(Kobe City Museum)
Meander down San-no-miya Street and enjoy a little shopping. Visit the Kobe City Museum where you will learn about the town's history from ancient to modern times, and view the paintings and craftworks on exhibition.
Meriken Park

(Meriken Park)
About 5 minutes from the museum is 'Meriken Park' at Kobe Port where large ships come to dock. The night view from the Kobe Port Tower at 108 m (354 feet) high is superb, and the tower lit up in the night sky is a symbol of Kobe. Several cruise boats leave from the port, including the 'Luminous Kobe 2', the largest restaurant ship in Japan. Imagine how wonderful it would be to have dinner while enjoying the night view. Kobe's Chinatown, known as Nankinmachi, is near Motomachi Station, and is also well worth a visit.
By TS on Aug 10, 2012
スポンサーサイト
tag : Cool_Japan