Sponsored Link
スポンサーサイト
Cool Japan Guide / Summer Festival Map for the Eastern Japan Area (Vol 3)
Yassho, makasho! Flower hats spreading group dancing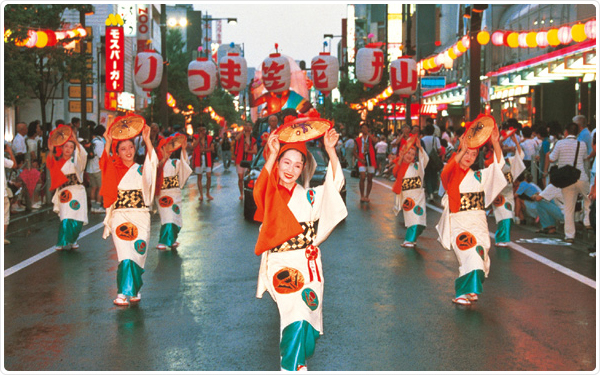 The Yamagata Hanagasa Festival is sometimes added to the three great Tohoku festivals, making the "four great Tohoku festivals." The word
hanagasa
refers to conical hats decorated with flowers, and in Yamagata, the prefectural flower, the safflower, is used. Holding their flowery hats in their hands, some ten thousand dancers yell out
"Yassho, makasho"
in rhythm to the Hanagasa Ondo folk song. Dressed in colorful costumes, the dancers parade through Yamagata in magnificent style, nearly buried by the crowd of spectators along the route trying to get a glimpse of the procession.
Visit the Link:
http://www.jreast.co.jp/e/season/summer/index.html
| | |
| --- | --- |
| Dates and times | Sunday, August 5 to Tuesday, August 7, 2012: 6 p.m. to 9:30 p.m. |
Travel back in time to feudal Japan! This gorgeous "battle scroll" is a peerless masterpiece
Soma Nomaoi, which boasts more than a thousand years of history, is a traditional horse event designated as a national important intangible folk culture asset. Five hundred samurai knights attired in armor passed down from their ancestors take part in this spectacle that spreads out like one of the many scrolls depicting battles of old.
The largest horse event in the world, Soma Nomaoi, is filled with throngs of visitors.
Visit the Link:
http://www.jreast.co.jp/e/season/summer/index.html
Dates and times
Saturday, July 28 to Monday, July 30, 2012
The main event takes place on Sunday, July 29.
Main event proceedings:
9:30 a.m.: Parade – Nomaoi-dori in Haramachi-ku, Minamisoma City
12:00 p.m.: Warrior horseracing – Hibarigahara site in Haramachi-ku, Minamisoma City
1:00 p.m.: Flag capture battle – Hibarigahara site in Haramachi-ku, Minamisoma City
By TS on Jul 10, 2012
スポンサーサイト
tag : Cool_Japan