Sponsored Link
スポンサーサイト
Cool Japan Guide / Edo-hake (江戸刷毛 / Edo Hake Paint Brush)

(Edo-hake (江戸刷毛 / Edo Hake Paint Brush))
The paint brush known as hake has been used since ancient times. According to some documents dating back to Heian period, feathers from millet plants were used to paint lacquer onto such things as bowls and bows and arrows.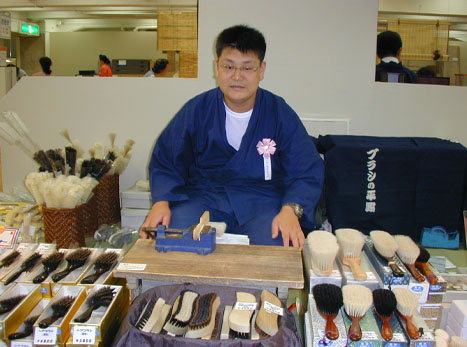 Edo Hake was an important tool and played a vital role for Edo-influenced artisans from various fields. The word, Edo Hake, first appeared in a product guide book called "Mankin-sugiwai-bukuro", published in the middle of Edo period. In the book, Edo Hake was introduced as a brush to apply glue for mounting. There are seven kinds of brushes that are designated as Edo Hake: Kyouji Hake, Senshoku Hake, Ningyou Hake, Urushi Hake, Mokuhan Hake, Oshiroi Hake and Tosou Hake.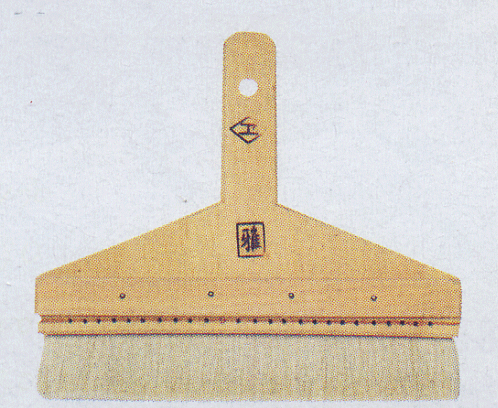 Modern Edo Hake now uses human hair and animal hair such as horse, deer and goat as well as plant fibers from box tree and hemp palm. Because many hairs are curly to some degree and contain oil, both of which prevent craftsmen from attempting subtle work, a good part of the production process is dedicated to strengthening the hair and eliminating grease from the hair.
The most vital part of the brush is the edge of the hair which is evaluated for its evenness and firmness. It is an essential job for the brush makers to make a careful examination in selecting the best materials.
By TS on Jul 8, 2012
スポンサーサイト
tag : Cool_Japan