Sponsored Link
スポンサーサイト
Cool Japan / Asakusa (浅草) / Tokyo

(The Kaminarimon, with its giant chochin, the outer gate of Senso-ji Temple)
Asakusa is on the north-east fringe of central Tokyo, at the eastern end of the Ginza subway line, approximately one mile east of the major Ueno railway/subway interchange. It is central to the area colloquially referred to as Shitamachi, which literally means "low city," referring to the low elevation of this old part of Tokyo, on the banks of the Sumida River. As the name suggests, the area has a more traditionally Japanese atmosphere than some other neighborhoods in Tokyo do.

(The Scarlet Gang of Asakusa - Yasunari Kawabata)
For most of the twentieth century, Asakusa was the major entertainment district in Tokyo. The Rokku or "Sixth District" was in particular famous as a theater district, featuring famous cinemas such as the Denkikan. The golden years of Asakusa are vividly portrayed in Yasunari Kawabata's novel The Scarlet Gang of Asakusa (1930; English translation, 2005). The area was heavily damaged by US bombing raids during World War II, particularly the March 1945 firebombing of Tokyo. The area was rebuilt after the war, but has now been surpassed by Shinjuku and other colorful areas in the city, in its role as a pleasure district.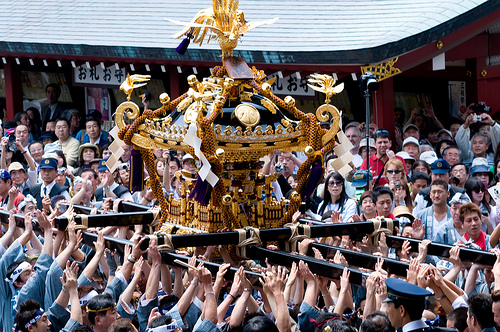 (The Sanja Matsuri in May)
With so many religious establishments, there are frequent matsuri (Shinto festivals) in Asakusa, as each temple or shrine hosts at least one matsuri a year, if not every season. The largest and most popular is the Sanja Matsuri in May, when roads are closed from dawn until late in the evening.
Two geishas relaxing after having entertained; the insets showing the curfew bell at Asakusa. Ukiyo-e woodblock print by Yōshū Chikanobu, 1888
In a city where there are very few buildings older than 50 years because of the wartime bombing, Asakusa has a greater concentration of buildings from the 1950s and 1960s than most other areas in Tokyo do. There are traditional ryokan (guest-houses), homes, and small-scale apartment buildings throughout the district.
In keeping with a peculiarly Tokyo tradition, Asakusa hosts a major cluster of domestic kitchenware stores on Kappabashi-dori, which is visited by many Tokyoites for essential supplies.

(Kappabashi-dori, also known as Kappabashi Market or Kitchen Town)
Next to the Sensō-ji temple grounds is a small amusement park called Hanayashiki, which claims to be the oldest amusement park in Japan. The neighborhood theaters specialize in showing classic Japanese films, as many of the tourists are elderly Japanese.
Cruises down the Sumida River depart from a wharf only a five minute walk from the temple.
Asakusa is Tokyo's oldest geisha district, and still has 45 actively working geisha.
Because of its colourful location, downtown credentials, and relaxed atmosphere by Tokyo standards, Asakusa is a popular accommodation choice for budget travelers.
By TS on May 27, 2012
スポンサーサイト
tag : Cool_Japan