Sponsored Link
スポンサーサイト
Cool Japanese Samurai / Saigo Takamori (西郷 隆盛) / Satsuma Rebellion (1877)

(Saigo Takamori (seated, in Western uniform), surrounded by his officers, in samurai attire.
News article in Le Monde Illustré, 1877.)
Although Okubo Toshimichi and others were more active and influential in establishing the new Meiji government, Saigo retained a key role, and his cooperation was essential in the abolition of the han system and the establishment of a conscript army. In spite of his humble background, in 1871 he was left in charge of the caretaker government during the absence of the Iwakura Mission (1871–72).
The Satsuma Rebellion Refined
Saigo initially disagreed with the modernization of Japan and the opening of commerce with the West. He famously opposed the construction of a railway network, insisting that money should rather be spent on military modernization.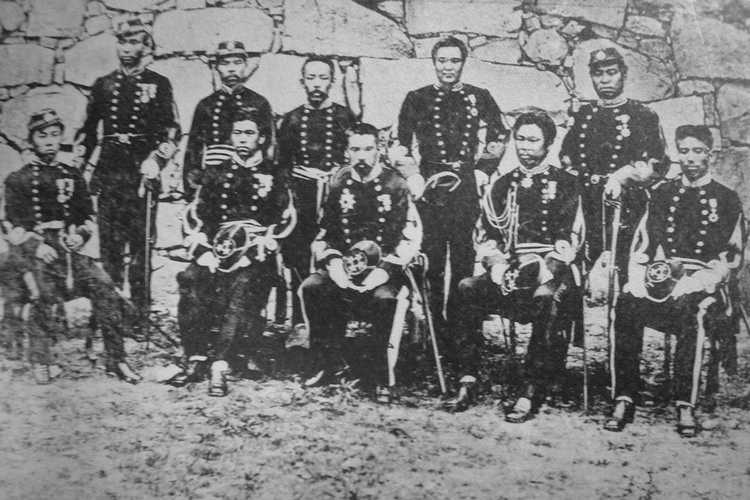 Saigo did insist, however, that Japan should go to war with Korea in the Seikanron debate of 1873 due to Korea's refusal to recognize the legitimacy of the Emperor Meiji as head of state of the Empire of Japan, and insulting treatment meted out to Japanese envoys attempting to establish trade and diplomatic relations. At one point, he offered to visit Korea in person and to provoke a casus belli by behaving in such an insulting manner that the Koreans would be forced to kill him. However, the other Japanese leaders strongly opposed these plans, partly from budgetary considerations, and partly from realization of the weakness of Japan compared with the western countries from what they had witnessed during the Iwakura Mission. Saigō resigned from all of his government positions in protest and returned to his hometown of Kagoshima.
By TS on May 26, 2012
スポンサーサイト
tag : Cool_Japanese