Sponsored Link
スポンサーサイト
Cool Japan / Constitution Memorial Day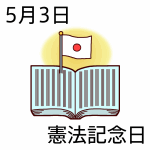 Today, May 3, is the "Constitution Memorial Day" and one of national holodays here in Japan.
Constitution Memorial Day (憲法記念日) is a national holiday in Japan. It takes place on May third in celebration of the promulgation of the 1947 Constitution of Japan. It is a part of the collection of holidays known as Golden Week.
A holiday since the current Japanese constitution came into effect on May 3, 1947, this is the only day of the year that the National Diet Building is open to the public. Being a day that draws its significance from the Japanese constitution, Constitution Memorial Day is often chosen as a day to reflect on the meaning of democracy and Japanese government. For instance, in 2003, a number of newspapers featured editorials regarding the constitution's embattled Article 9.
For your information, taking up herewith the Article 9 on Japanese Constitution as follows;
-----------
ARTICLE 9. Aspiring sincerely to an international peace based on justice and order, the Japanese people forever renounce war as a sovereign right of the nation and the threat or use of force as means of settling international disputes. (2) To accomplish the aim of the preceding paragraph, land, sea, and air forces, as well as other war potential, will never be maintained. The right of belligerency of the state will not be recognized.
-----------
By TS on May 3, 2012
スポンサーサイト
tag : Japanese_Constitiution