Sponsored Link
スポンサーサイト
Cool Japan / Kaiten Sushi (Kaiten-Zushi)
Kaiten sushi (actually pronounced kaiten-zushi in Japanese) are special sushi restaurants where plates of sushi are brought around to diners on a revolving conveyer belt. Kaiten- zushi restaurants are where you can fine some of Japan's most inexpensive yet still high-quality sushi, and have tons of fun while you eat!
Kaiten-zushi is a fun, casual and affordable way to enjoy sushi in Japan. At a kaiten-zushi restaurant, a conveyor belt snakes around the restaurant bringing single-serve plates of sushi to diners.
After you sit down at a kaiten-zushi, you'll find a little station that has chopsticks, wasabi, pickled ginger, soy sauce, and even a hot water pump for your tea.
Once you see a dish that looks appetizing, just grab it off the belt and start to chow down. Sushi is priced according to the color of the plate, so it's easy to keep track of your running tab.
As you continue eating, just keep stacking up your plates, which the server will count at the end of your meal. If you want to be a particularly polite gaijin, arrange your stack by color to make it easier for the server to count. Just be careful, as it's pretty easy to build up a large stack of plates in no time.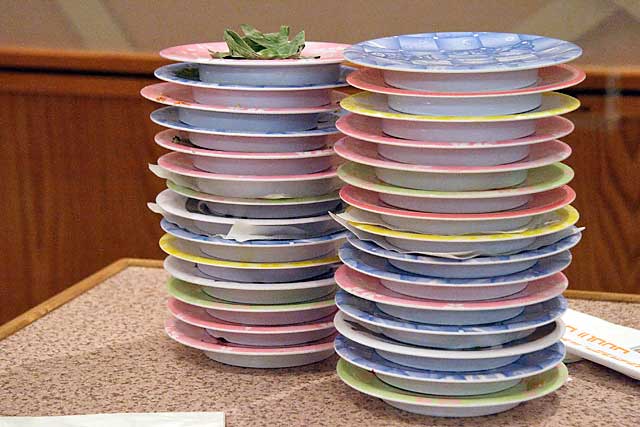 As mentioned above, prices vary by plate color, and also by restaurant. The cheapest kaiten-zushi restaurants advertise 100-yen per plate of sushi or lower. Most offer sushi with prices ranging between around 200 yen to 700 yen per plate. Quality also varies accordingly.
Kaiten-zushi restaurants are found all over Japan, both in major cities like Tokyo and in rural areas, so you'll have no trouble finding one. Look for them in popular Tokyo destinations like Shibuya, Harajuku, Shinjuku, and Ueno. Major train stations are another place where you're likely to find a kaiten-zushi restaurant.
By TS on Jun 7, 2012
スポンサーサイト
tag : Cool_Japan