Sponsored Link
スポンサーサイト
Cool Japan / Square sake bottle intoxicates shoppers, judges

(The "Mino-tosui Kakutokuri" bottles come in three colors)
A distinctive square-shaped sake bottle, created as a souvenir by a pottery, a brewery and other parties in Tajimi, Gifu Prefecture, is the toast of the town, winning prizes in contests and selling out its first production run.
The "Mino-tosui Kakutokuri" bottle is also being used to promote sightseeing and local industries.
"It is made from water, soil and wood in the Mino region," said Yuko Imagawa, manager of the Ichinokura Sakazuki Art Museum, one of the bottle's developers.
The museum formed the group called the Ichitakasa project along with pottery Kobei-gama, the city of Tajimi and other entities.
The group was established in 2006, at the time of the integration of Tajimi, a major producer of Mino-Yaki ceramic ware, and Kasahara, where breweries are located. The Ichitakasa project aimed at creating products using both local industries.
The Kakutokuri bottle is the third product under the Ichitakasa project. Past products include a vessel to drink cold sake from.
The square Kakutokuri bottle contains 290 milliliters of top-quality "daiginjo" sake and has a "masu" drinking box made of hinoki Japanese cypress over its top.
The bottle, which comes in three colors, white, black and red, is produced by Watanabe Seitojo, and the time-honored Michisakari brewery is in charge of making the sake. Both makers are located in Tajimi.
The specially produced masu vessel is from a manufacturer in Ogaki in the same prefecture. The city is the largest producer of masu.
The group said it put some 500 Kakutokuri bottles on sale in September, and they were sold out in about two months.
The bottle won a bronze prize at a local contest called the International Ceramics Competition Mino.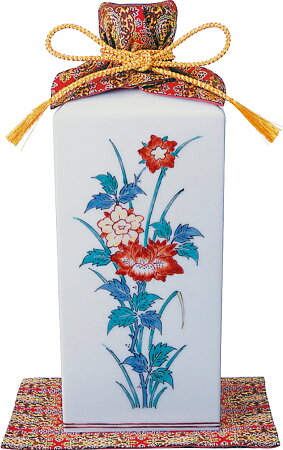 In January, it received the France prize at the Charming Japanese Souvenirs Contest 2012, sponsored by the Japan Tourism Agency, among 720 entries.
The prize is one of the citations named after foreign countries and regions along with the grand prize and category prizes. Officials at the French Embassy in Tokyo reportedly praised it as the Japanese souvenir best matching the taste and style of the French people.
The producers say the bottle will be sold at Narita Airport and other locales.
By TS on May 13, 2012
スポンサーサイト
tag : Cool_Japan