Sponsored Link
スポンサーサイト
Cool Japan / Food / Kobe Beef (神戸ビーフ)
Japan - Kobe Beef 神戸ビーフ
Kobe Beef (神戸ビーフ) refers to cuts of beef from the black Tajima-ushi breed of Wagyu; cattle, raised according to strict tradition in Hyogo Prefecture, Japan, my Home Town. The meat is generally considered to be a delicacy, renowned for its flavour, tenderness, and fatty, well-marbled texture. Kobe beef can be prepared as steak, sukiyaki, shabu shabu, sashimi, teppanyaki and more.

(Kobe Beef)
Kobe beef is also called "Kobe niku" (神戸肉 lit "Kobe meat"), "Kobe-gyu" (神戸牛, lit Kobe cow) or "Kobe-ushi" (神戸牛, lit Kobe cow) in Japanese.
Despite many American beef products being labeled Kobe, authentic Japanese Kobe beef is not available for sale anywhere outside Japan, with the solitary exception of Macau.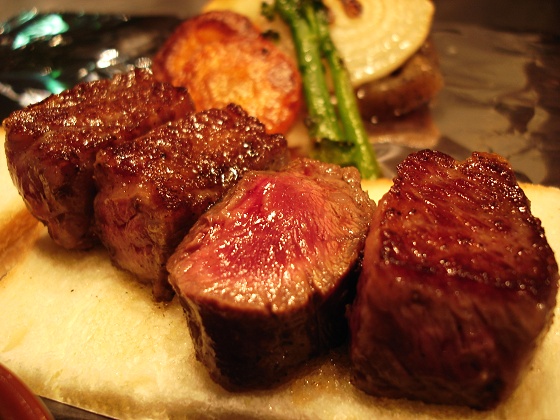 (Cooked Kobe Beef)
Regarding the Kobe Beef, the history is as follows;
The Wagyu cattle that produce this highly-prized meat were introduced into Japan in the second century as work animals, used in rice cultivation. The mountainous topography of the islands of Japan resulted in small regions of isolated breeding, yielding herds that developed and maintained qualities in their meat that differ significantly from all other breeds of cattle. Herd isolation and distinctive feeding techniques, which resulted from the limited land availability, have led to distinguishing features that make the meat both superior in marbling and in the ratios of unsaturated versus saturated fats.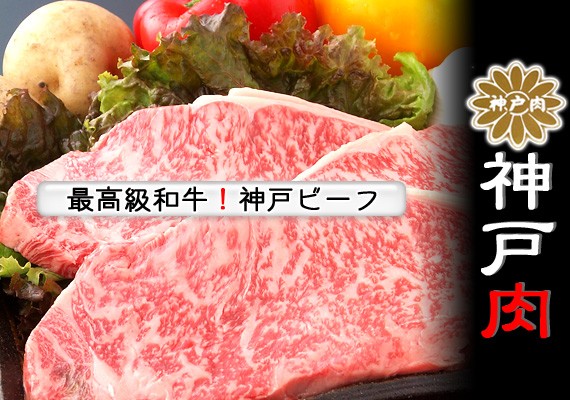 The cows are fed on grain fodder and brushed sometimes for setting fur. The Kobe beef marketing and distribution promotion association plans to make available a pamphlet in foreign languages with details about Kobe beef due to ambiguities about what actually constitutes Kobe beef, and because many tourists who visit Japan request information about the product. The melting point of fat of Kobe beef (Tajima cattle) is lower than common beef fat.
By TS on May 15, 2012
スポンサーサイト
tag : Cool_Japan