Sponsored Link
スポンサーサイト
Cool Japan / Miharu Takizakura (三春滝桜, litt. waterfall cherry tree of Miharu)
The Miharu Takizakura (三春滝桜, litt. waterfall cherry tree of Miharu) is an ancient cherry tree in Miharu, Fukushima, in northern Japan. It is a weeping higan cherry (Prunus pendula "Pendula Rosea", benishidarezakura in Japanese) and is over 1,000 years old.

(Light-upped Takizakura)
It flowers in mid to late April, and its light pink flowers spread in all directions from the branches, like a waterfall.
The tree is 12 metres high, the trunk circumference is 9.5 metres, the east-west spread is 22 metres, and the north-south spread is 18 metres.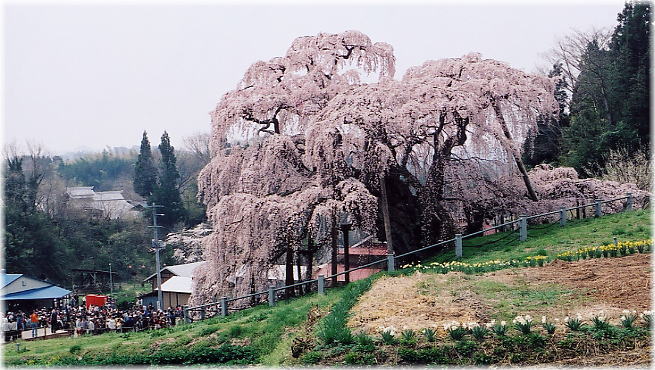 It is classified as one of the five great cherry trees of Japan (日本五大桜) and one of the three giant cherry trees of Japan (日本三巨大桜). It was designated a national treasure in 1922. Polls frequently rank it as the number one tree in all of Japan.
Around 300,000 people visit the Miharu Takizakura every year, making it an important source of income for Miharu, which is otherwise a farming community.
The tree suffered some damage from heavy snow in January 2005, breaking several branches; residents brushed off the snow and built wooden supports to limit damage. It was unharmed by the 2011 Tohoku earthquake and tsunami.

(The Miharu-Takizakura cherry tree is more than 1,000 years old)
And please visit the article:
http://www.telegraph.co.uk/news/worldnews/asia/japan/8468629/1000-year-old-cherry-tree-gives-hope-to-Japan-nuclear-victims.html
Quote herewith partly of the article as follows;
=====
Quote
=====
By
Danielle Demetriou
,
Tokyo
3:41PM BST 22 Apr 2011
The tree in full bloom has become a symbol of hope in
Japan
. Adding to the significance of the occasion is that the tree is one of the oldest in a country that cherishes cherry blossoms as symbol of springtime renewal and a fresh start.
The Miharu-Takizakura cherry tree, a national treasure located in Miharu, Fukushima, is one of only three of its kind in the country, dating back more than 1,000 years.
=======
Unquote
=======
By TS on May 6, 2012
スポンサーサイト
tag : Cool_Japan