Sponsored Link
スポンサーサイト
Cool Japanese Person / Yu Darvish smiling and improving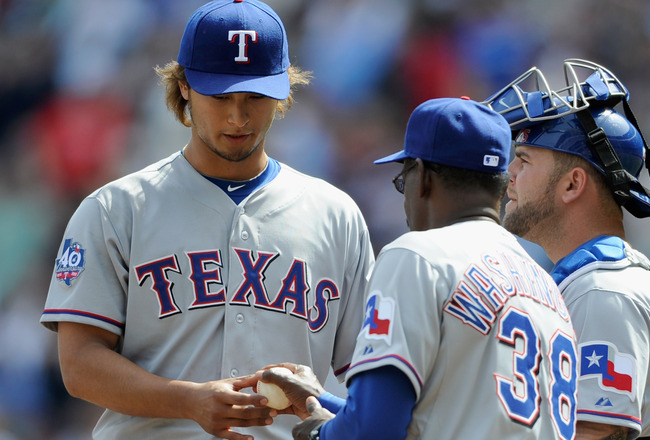 (Yu Darvish is taken out of the game Hannah Foslien/Getty Images)
DETROIT -- Perhaps the best indication that Texas Rangers pitcher Yu Darvish is getting more comfortable with each start was that his humor was in full force as he spoke with the media in an interview room just outside the visiting clubhouse at Comerica Park.
The 25-year-old, who allowed one run on two hits with five walks and five strikeouts in 6 1/3 innings, joked that he could have pitched another full game despite throwing 121 pitches. He was asked what Detroit slugger Miguel Cabrera said to him after he flied out in the sixth.
"He was asking me about a Japanese restaurant," Darvish said.
When Darvish's interpreter, Joe Furukawa, couldn't remember part of Darvish's answer, the pitcher laughed. Then, after the conference, he went straight into the manager's office and joked with GM Jon Daniels and skipper Ron Washington that he might need a new interpreter.
It was a relaxed Darvish, who has steadily improved since the season began. He went deeper into Thursday's game than he has all season -- 6 1/3 innings -- and produced his first quality start of 2012. He threw a season-high 121 pitches, the most for any Rangers starter this season. He kept a quality Tigers' lineup from doing much damage against him and he pitched out of what could have been a major jam in the fourth inning.
Darvish wiggled out of big trouble in the fourth after walking Prince Fielder and giving up a double off the bat of Delmon Young. With runners at second and third and no outs, Darvish struck out Alex Avila on a nasty curve. Don Kelly hit a ground ball to second that scored a run and Jhonny Peralta hit a fly ball to right field to end the inning. ...
(Via ESPN)
By TS on Apr 22, 2012
スポンサーサイト
tag : Cool_Japan