Sponsored Link
スポンサーサイト
Cool Japan / Australian anthropologist enters the rarefied world of Japanese tradition ...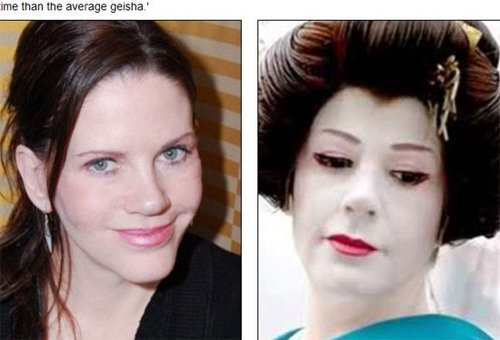 It's an unlikely job for a white girl from Melbourne, Australia. Fiona Graham is the first ever fully trained non-Japanese geisha. She entered the unusual line of work - a 400-year-old tradition - after a lifelong passion for all things Japanese.
But her refusal to stick to tradition has ruffled feathers in the tight-knit world of the ceremonial tea servers. Miss Graham, who holds a PhD in Social Anthropology from Oxford, formally debuted as a geisha in 2007, after a year of preparation and training.
Working under the name Sayuki - meaning transparent happiness - she spent more than three years working at a geisha house in Ayakusa, Tokyo's historic pleasure district.
However, amid claims she failed to follow customs and show deference to more experienced practitioners, she was in 2011 disaffiliated from Ayakusa's Geisha Association.
Sources in Japan told the Sunday Telegraph at the time that Miss Graham had also failed to attend obligatory classes in music and dance and spent too much time on self-promotion.
One geisha told the paper anonymously: 'She was in the association for more than three years, but she did not take part in lessons and she did not follow our rules.
'And she was always fighting us.'
Miss Graham has denied the claims she fell out with fellow geishas, alleging in response that the association had rejected her request to operate her own geisha house because she was a foreigner.
Now working independently, she maintains that, as a Caucasian, she has had to work harder to be accepted into the notoriously tight geisha world.
Via
News on Japan
By TS on Mar 31, 2012
スポンサーサイト
tag : Cool_Japan